Turkey made highest number of removal requests to Twitter in 2019, report shows
A report drafted by the Freedom of Expression Association (İFÖD) has shown that Turkey made the highest number of applications to the Twitter social media platform for content removal in the first half of 2019, according to Turkish media reports.
İFÖD's report, titled "EngelliWeb 2019" (BlockedWeb 2019) showed that while Twitter received a total of 50,757 removal requests in the first half of 2019, 8,993 of these requests were made by Turkey, the highest number made by a single country.
It is an everyday occurrence in Turkey for individuals to face legal action, detention and even arrest due to their tweets.
The report also showed that Turkish courts banned access to 130,000 URL addresses, 7,000 Twitter accounts, 40,000 tweets, 10,000 YouTube videos and 6,200 Facebook posts in 2019.

Şebnem Korur Fincancı, Gençay Gürsoy acquitted

The two academics who signed the peace declaration have been acquitted of charges after a retrial following the Constitutional Court's "violation of rights" decision.

After the Constitutional Court's decision for the retrial of the Academics for Peace, the hearing of Prof. Şebnem Korur-Fincancı and Prof. Gençay Gürsoy was held at İstanbul Courthouse 37th Heavy Penal Court.
The court ruled for the acquittal for Korur-Fincancı and Gürsoy. The two academics and their attorney, Meriç Eyüboğlu, were present at the courtroom, as well as other academics, who attended the hearing as spectators. The court limited the number of spectators because of coronavirus.
Read the full article


Academic for Peace Lütfiye Bozdağ acquitted

Put on trial for having signed the declaration "We will not be party to this crime," academic Lütfiye Bozdağ has been acquitted in the retrial that started after the Constitutional Court concluded that the freedom of expression of Peace Academics was violated.

As the Constitutional Court gave a ruling of retrial for Academics for Peace, who were put on trial for having signed the declaration "We will not be a party to this crime", Asst. Prof. Lütfiye Bozdağ stood trial at the İstanbul 37th Heavy Penal Court today (June 18). The court previously sentenced Bozdağ to 1 year, 6 months in prison.
However, the Constitutional Court has concluded that the freedom of expression of Peace Academics was violated by their prosecution and penalization. Accordingly, in line with this Constitutional Court ruling, the local court has ruled that Lütfiye Bozdağ shall be acquitted. The hearing was attended by Bozdağ herself as well as her attorney Meriç Eyüboğlu and other academics.
Read the full article

2 actors face prison term for 'insulting President'

The indictment brought against actors Metin Akpınar and Müjdat Gezen demands that the actors be sentenced to up to 4 years, 8 months in prison each on charge of "insulting the president" due to their remarks in a TV program.

The İstanbul Anatolian Chief Public Prosecutor's Office has brought an indictment against actors Metin Akpınar and Müjdat Gezen, who were being investigated for "insulting the president" due to their remarks at "Halk Arenası" (People's Arena) program aired on pro-opposition Halk TV in 2018.
The indictment of the prosecutor's office has argued that the offense of "insulting the president" was committed by the actors, demanding that Gezen and Akpınar be sentenced to prison on the offense charged.
A lawsuit has now been filed against them and they face up to 4 years, 8 months in prison each on charge of "insulting the president publicly." Erdoğan Said, 'They Will Pay Price'; Investigation Launched Against Akpınar, Gezen


Four rights defenders handed down prison sentences in "Büyükada trial"

The final hearing in the "Büyükada trial," where 11 human rights defenders faced terrorism-related charges, was held on 3 July 2020 at the 35th High Criminal Court of Istanbul.
Announcing its verdict at the end of what was the 13th hearing in the trial, the court sentenced Taner Kılıç to 6 years and 3 months in prison for "membership of a terrorist organization," Özlem Dalkıran, İdil Eser and Günal Kurşun to 1 year and 13 months each for "aiding a terrorist organization" and acquitted Ali Gharavi, Nejat Taştan, Veli Acu, İlknur Üstün, Nalan Erkem, Peter Frank Steudtner and Muhammed Şeyhmus Özbekli.
A report about the hearing, monitored by P24, can be accessed here.


T24's Doğan Akın acquitted of "aiding terrorist group" charge

Doğan Akın, a founding member of P24 and the editor-in-chief of the news portal T24, was acquitted of "knowingly and willingly aiding a terrorist organization without being its member" at the third hearing of his trial, held on 2 July 2020 at the 25th High Criminal Court of Istanbul.
Akın was facing up to 15 years in prison over T24's coverage of posts by an anonymous Twitter account that went by the name "Fuat Avni." A report about the hearing, monitored by P24, can be accessed here.

Alican Uludağ and Duygu Güvenç's trial adjourned 

The sixth hearing in a trial where journalists Alican Uludağ and Duygu Güvenç stand accused of "publicly degrading the judiciary" under Article 301 of the Turkish Penal Code (TCK) took place on 2 July 2020 at Istanbul's 2nd Criminal Court of First Instance.
The accusation stems from Uludağ and Güvenç's reports about the developments surrounding US pastor Andrew Brunson, who remained in pre-trial detention in Turkey for two years before being released in October 2018.
Uludağ and his lawyer were not in attendance. Güvenç's lawyer Abbas Yalçın was present in court. Yalçın said his client's reporting was within the framework of freedom of expression and that Güvenç's report was based on facts. Yalçın asked the court to acquit his client. Accepting Uludağ and his lawyer's letters of excuse, the court adjourned the trial until 22 October 2020.

MA reporter Sadiye Eser faces new investigation
Journalist Sadiye Eser, an Istanbul-based reporter for Mezopotamya news agency (MA), is facing an investigation over an interview she made in 2019 with a lawyer representing PKK leader Abdullah Öcalan.

Eser gave her statement to a prosecutor on 29 June at the Istanbul Courthouse in relation to the investigation, where she faces allegations of "propaganda."



3 local journalists face investigation over newspaper's headline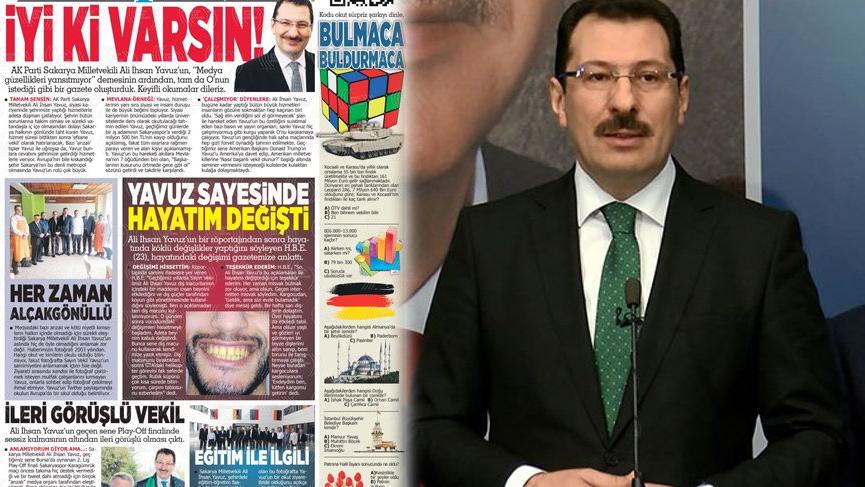 Mustafa Sarı, Sedat Balta and İsmail Erken, the executives of Adapazarı Akşam Haberleri, a local daily published in Sakarya, are facing allegations of "insulting a public official" and "libel" in a new investigation.

The allegations stem from the headline story in the daily's 15 June 2020 issue, which read "İyi ki Varsın!" (So glad you exist!), a sarcastic response to a recent statement by AKP Sakarya Deputy Ali İhsan Yavuz, who claimed that the media was "not covering good things that happen" in Turkey.
Journalist Cihan Acar sent back to prison

Journalist Cihan Acar, who was sentenced in 2018 to 6 years and 3 months in prison on the charge of "membership of a terrorist organization" as part of the case publicly known as the "FETÖ media trial," returned to prison after the Supreme Court of Appeals upheld his sentence in June.

Acar surrendered to the Edirne Prison on 23 June 2020 to serve the remainder of his sentence. For details, see this report.


Court convicts former Amnesty Turkey leaders on terror charges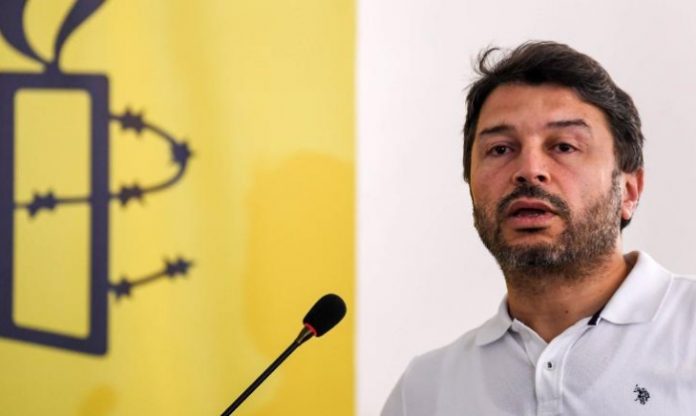 Amnesty International Turkey said two of its former leaders were convicted on terrorism charges by an İstanbul court on Friday in a case reflecting mounting official pressure on civil society, AFP reported. The trial of 11 human rights activists became a symbol of the crackdown on critics after a 2016 failed attempt to overthrow President Recep Tayyip Erdoğan.
İdil Eser, former Amnesty Turkey director, was among three people sentenced to 25 months for "helping a terrorist organization." Former Amnesty International Turkey chair Taner Kılıç was sentenced to six years, three months for "membership in a terrorist organization," Amnesty Turkey said on Twitter. They are free pending appeal.
The court acquitted seven other activists including Peter Steudtner, a German citizen, and Ali Gharavi, who is Swedish. The trial had been followed closely abroad with Chinese artist Ai Weiwei, U2's Bono and others offering high-profile support.
"The decision of the court is staggering. During 12 court hearings, each and every allegation has been comprehensively exposed as a baseless slur," Amnesty's Andrew Gardner said in a statement, describing the verdict as a "travesty of justice."
Read the full article

TV channels critical of Turkish gov't receive 5-day ban, near permanent suspension
Two television channels in Turkey have been hit with five-day bans and the threat of permanent suspension, in a move slammed by press freedom organizations, according to the Middle East Eye. The Radio and Television Supreme Council (RTÜK) media watchdog slapped the bans on Halk TV and TELE 1, two television stations that often feature views critical of the government.
İlhan Taşçı, a member of RTÜK, tweeted the decision on Wednesday, saying that viewers tuning in to the channels would "only see black screens" for five days. He added that the two outlets would lose their broadcast licenses entirely if they were penalized again in future.
An investigation was launched into TELE 1 last week after a television host criticized Ottoman Sultan Abdulhamid II, who ruled from 1876 to 1909.
Merdan Yanardağ accused the former ruler of repressing progressives and reformists in the Ottoman Empire in the 19th century and described him as a "despicable dictator who was a slave to imperialism."
Poll shows support for Erdoğan's party slipping to 30 percent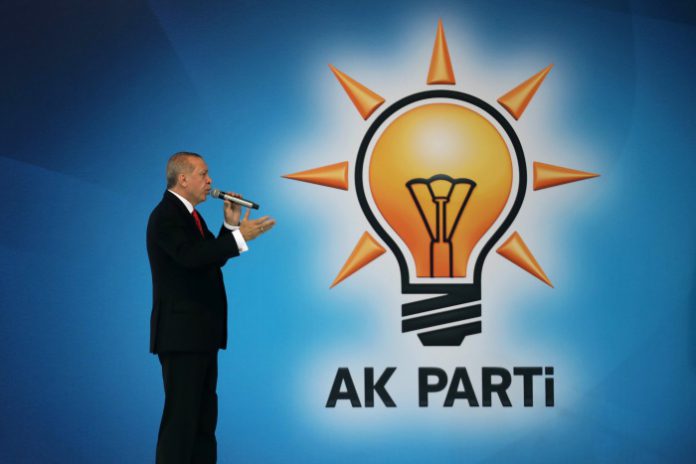 A public survey conducted by the Ankara-based Metropoll polling company has shown that the Justice and Development Party (AKP), which has been in power as a single-party government since 2002, would have received 30.3 percent of the nationwide vote in a possible general election in June.
In surveys conducted by Metropoll in February, the party's vote was 33.9 percent; 33.7 percent in March; 32.8 percent in April; and 30.7 percent in May. "Big loss in the AKP," tweeted Professor Özer Sencar, president of the polling company when announcing the results of the survey from his Twitter account on Saturday.
The poll also showed a drop in the vote of the Nationalist Movement Party (MHP), the AKP's election partner. The MHP's vote dropped to 6.2 percent from 7.3 percent in May.
According to the survey the main opposition Republican People's Party (CHP) saw an increase in its vote in June, which rose to 21.7 percent from 19 percent in April and May and 17.7 percent in March. The Kurdish Peoples' Democratic Party (HDP) also saw an increase in its vote from the 8.4 percent in May to 8.9 percent in June.
Turkish parliamentary office files complaint against insult by opposition columnist
The Turkish Parliament Speakers' Office has filed a criminal complaint against opposition newspaper Sözcü and a top columnist for allegedly insulting Turkey's lawmakers, news website Diken reported on Sunday.
Sözcü columnist Yılmaz Özdil on Saturday openly accused Turkish parliament members of theft in a column that targeted and insulted civil servants, Diken news site quoted the speaker's office as saying in the complaint filed with Ankara Chief Public Prosecutor.
"Thieves are free to enter parliament," Özdil wrote, before listing the various means in which Turkish lawmakers allegedly steal from public services, citing the cases of inflated quotes for healthcare reimbursements and stealing from a donation box.
"It is evident that this column was published to incite hatred and enmity toward Turkish Parliament and the lawmakers," the speaker's office said. Özdil, a vocal critic of the Turkish government, has been a frequent target of criminal complaints made by Ankara state officials. In 2019, Defence Minister Hulusi Akar demanded a prison sentence for Özdil over a column criticising the top government official.
Turkey's TV watchdog bans popular music video for encouraging smoking
Turkey's Radio and Television Supreme Council (RTÜK) has banned the broadcasting of a music video by a leading pop singer for encouraging smoking, Birgün newspaper reported on Sunday.
The ban against singer Sıla's music video "Karanfil'' ("Carnation" in English), follows a complaint filed by Orhan Kural, the chairman of the Sarıay Association, Turkey's first anti-smoking organisation, and the Tobacco and Alcohol Unit of the Agriculture Ministry, it said.
The lyrics of the song, "Remember me at least once a year, pin a carnation, light a cigarette from me,'' promote smoking, RTÜK said. Sıla's video had close to 25 million hits on YouTube at the time this article was published.
The decision arrives as Turkish President Recep Tayyip Erdoğan has vowed to curb social media in the country. Last week, RTÜK slapped two opposition TV stations with an unprecedented broadcast ban, sparking domestic and international criticism against censored media in Turkey.
Trial begins on Gulen movement's 1st plot to topple Turkish government
A trial of 34 defendants accused of ensnaring Turkey's intelligence chief in a conspiracy regarded as the first known plot to topple the government by the Gülenist Terror Group (FETÖ) opened under tight security in Istanbul on Monday.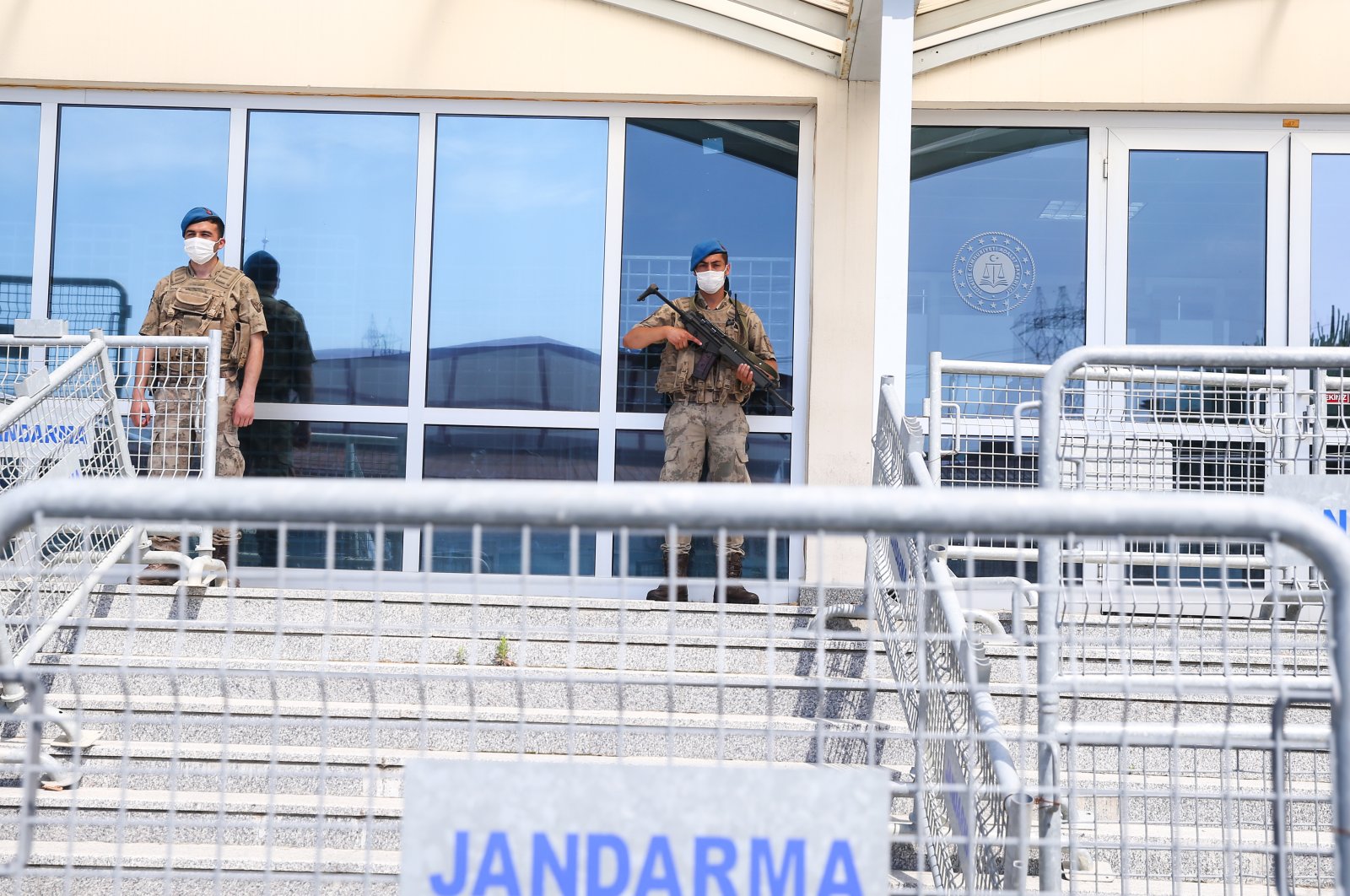 Dubbed the "MIT conspiracy" trial after the Turkish initials of the National Intelligence Directorate, the trial will delve into the group's role in an attempt to detain MIT Director Hakan Fidan and others in 2012. The court in Silivri, where a high-security complex serving both as a prison and a courthouse campus on Istanbul's European side, decided to close the trial to the press as it involved intelligence matters. Fourteen defendants in the case are in custody, while 15 others are still at large. Others were earlier released pending trial. The case has 32 plaintiffs, including Fidan, President Recep Tayyip Erdoğan and former ministers.
Prosecutors say it was "the first open attempt by FETÖ – whose ultimate purpose was to topple the government – against the government."

The indictment points out that the group sought to remove the head of the intelligence service through a sham investigation. Fidan and several other public officials were summoned to testify by FETÖ-linked prosecutors on Feb. 7, 2012, over allegations of MIT's ties to the terrorist group PKK. Later investigations revealed that the prosecutors and judges ultimately sought to arrest Fidan to trigger a crisis. Fidan did not go to the court to testify, upon the instructions of Erdoğan, who was prime minister at the time.

Prosecutors charged 34 suspects – including FETÖ leader Fetullah Gülen, the group's handlers for its infiltrators in the judiciary, law enforcement and MIT, former police chiefs and a journalist – with attempting to overthrow the government and running a terrorist group. The other charges in the case are obtaining confidential documents for political or military espionage and forgery of official documents. Overall, the charges carry prison terms from aggravated life imprisonment to sentences between 26 years and 53 years.

"It is clear that FETÖ engaged in a power struggle with the government and the first stage of its efforts for their ultimate goal (to topple the government) included the Ergenekon, Balyoz and Poyrazköy (trials), military espionage, the Tahşiye and Selam-Tevhid (cases), MIT trucks and the Dec. 17-25 cases," the indictment says, referring to a series of investigations and trials launched by FETÖ-linked prosecutors, police chiefs and judges.

All were found to be based on forged evidence and were attempts to stifle FETÖ's critics or imprison anyone the terrorist group viewed as an obstacle to their pursuit of gaining clout. The MIT plot sought to speed up this process, prosecutors say. "This is, as a matter of fact, FETÖ's first attempt to overthrow the elected government of the Republic of Turkey," the indictment says. By arresting Fidan, the plotters would eventually implicate the prime minister in the case and force him to resign, prosecutors say.

Istanbul's specially authorized prosecutors, Sadrettin Sarıkaya and Bilal Bayraktar, who were later revealed to be members of FETÖ, had issued a court summons for Fidan for his supposed collaboration with the PKK, a few months after a tape supposedly containing MIT's talks with the PKK surfaced. However, Fidan and the other public officials involved in the case did not cooperate with the prosecutor's orders after being instructed by the then-prime minister, President Erdoğan – who had planned to have surgery on the court day but postponed it due to the incident – not to follow the issued order.

At the time, the ruling government had harshly criticized the prosecutor's move, later dismissing him from the case. Sarıkaya later fled the country on Sept. 27, 2015, while under investigation as part of a FETÖ-linked case. He was caught in Istanbul two years later. Bayraktar remains at large. After the incident, a law was passed that stipulated MIT officials could only be investigated upon the permission of the prime minister.
FETÖ DEFAMED INTELLIGENCE

The indictment also sheds light on details of the conspiracy, including how FETÖ-linked judiciary members manipulated the case of plaintiff Mustafa Özer. Özer, who was later revealed to be employed by MIT, was a journalist who contacted top PKK members and worked as an informant for the intelligence agency. His house was searched upon the order of Bayraktar, and he was briefly detained. FETÖ-linked judges issued an order to wiretap his phone, and despite the secrecy on the case, his name and work were openly published on the website of Taraf, a now-defunct newspaper with intimate ties to FETÖ.

Prosecutors say FETÖ members sought to portray MIT as an organization collaborating with the PKK with the double purpose of defaming the government and removing top MIT executives to replace them with their own infiltrators. The terrorist group's infiltrators in the judiciary knew the prime minister was scheduled to have surgery and would, as a result, be unable to intervene in the process, deliberately choosing Feb. 7 as the date to summon Fidan and others.

Leaked audio recordings of talks between MIT officials and PKK members, known as the "Oslo talks," hit headlines shortly before the attempt to arrest Fidan. The talks were originally part of the government's efforts collectively known as the "reconciliation process," a bid to end PKK violence.

However, the leaked tapes ended up being fodder for anti-government propaganda, with FETÖ-linked media outlets claiming a collaboration between the PKK and the government. The indictment says hard drives containing audio recordings were "planted" by FETÖ-linked police officers at the offices of a political party with ties to the PKK and were "found" in a raid on the said place on Jan. 13, 2012.

The indictment traces back a plot to remove Fidan in his first days in the post and refers to "Israel's disappointment over the assignment of Fidan as the new head of the intelligence service," implying that FETÖ served the purposes of Israel.

Prosecutors say that the terrorist group, or rather its infiltrators in law enforcement and the judiciary, resorted to a series of crimes to build a case against Fidan and others, including arranging "secret" witnesses who were people fed up with false information issued by prosecutors concocting crimes.

About one year after the MIT incident, FETÖ used its members in the judiciary to open a corruption investigation into some members of the Cabinet. Prosecutors Zekeriya Öz and Celal Kara, now wanted for being members of FETÖ, created a list of names for prosecution, including Erdoğan's son Bilal Erdoğan. The aim was to establish a corruption link through Bilal Erdoğan with forged evidence that would then be linked to his father.

This attempt was also unsuccessful, as the police did not follow the prosecutor's orders. After this incident, which the government considered to be a breaking point, efforts to stop FETÖ members who had infiltrated nearly all government institutions intensified. Eventually, this led to FETÖ being listed as a national security threat after the recommendation of the National Security Council (MGK).
According to the indictment, two senior FETÖ members traveled to the U.S. before the plot against Fidan was put in motion and met with Gülen to discuss plans to ensnare Fidan and others in the conspiracy. Upon their return, they held talks in the capital Ankara with Ali Rıza Tekinkaya, a senior FETÖ member who conveyed the plans to members of law enforcement loyal to the terrorist group.
---