The New Turkey

Turkey takes firm steps toward eradicating terror threats
One-hundred-sixty-five terrorists in total including two from the blue category, two from the orange category and 13 from the grey category of the most wanted list of the Ministry of Interior were killed in counterterrorism operations, Interior Ministry Deputy Minister İsmail Çataklı said, revealing the steps the country is taking and their success against terrorism.
The Turkish Armed Forces (TSK) were successful in numerous operations carried out in July and eliminated 17 high-ranking terrorists. In the operation at Mount Tendürek on July 28, one of the terrorists killed, Uğur Arslan, code named Agir, was in the orange category of the Interior Ministry's wanted list. He was sought with a bounty of TL 600,000 on his head.

Another terrorist, Meryem Aksu, was on Turkey's most-wanted list. Aksu, code named Sorhin Eruh, was neutralized in a July 16 operation carried out by provincial gendarmerie forces in the rural areas of Kulp district. The orange-listed Aksu had a TL 600,000 bounty on her head. In addition, two listed in the blue category, Taylan Kutlar, code named Şeydo, and Hülya Kül, code named Şevin, who had bounties of TL 1.5 million were also killed.
------------------------------------------

Daesh suspects captured, sentenced
Security forces in southern Turkey detained 22 Daesh suspects, while a court in the city of İzmir handed out prison sentences to 11 defendants in a case against the terrorist group Tuesday.
In the face of counterterrorism operations in Syria and Iraq, Daesh numbers have further dwindled with heightened crackdowns in Turkey. Turkish security forces have been involved in a long-running campaign to rid Turkey of Daesh terrorists.
Gendarme units in Hatay, a southern city bordering Syria, launched simultaneous raids in 23 locations and detained 22 suspects accused of links with the group, recruiting militants and helping them to sneak into Syria from Turkey. All but two were released with judiciary control, while security forces launched a manhunt for five fugitive suspects. Read the full article
----------------------------------------

7 Syrian Daesh militants captured in Konya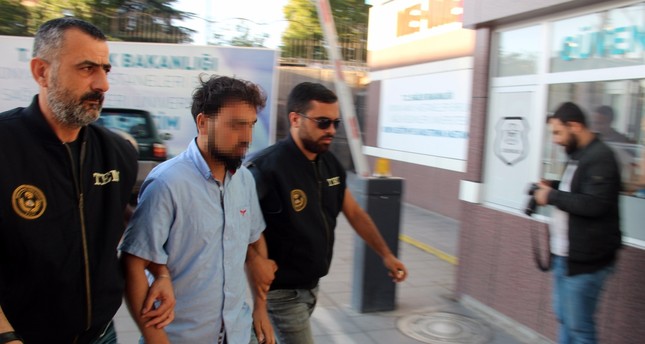 Counterterrorism police in the central Turkish province of Konya captured seven Syrian nationals accused of membership in the Daesh terrorist group Wednesday.
Suspects were among 12 wanted for links to the terrorist group, and operations were underway when Daily Sabah went to print to capture the other suspects. Police raided several locations in Konya and its districts to capture the suspects who were once active in the Daesh network in Syria according to investigators.
Elsewhere, a suspected member of Daesh was arrested in Kilis, a Turkish province bordering Syria. The suspect, identified as 32-year-old R.A., was a foreign national but authorities did not disclose his nationality. He was a resident of Kilis and had "links to conflict zones in Syria," officials said, referring to areas where the terrorist group has been active in war-torn Syria.
--------------------------------------

War on narcotics nets thousands of suspects, tons of drugs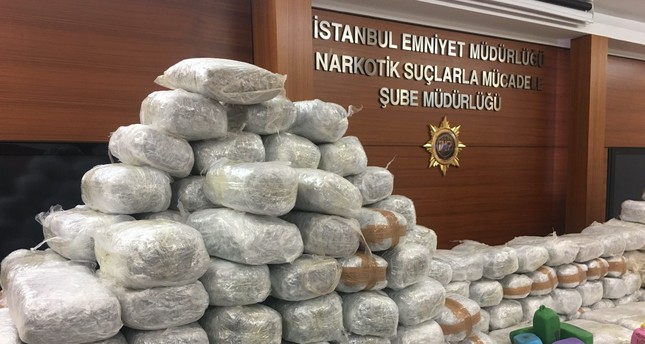 The new edition of the "Turkey Drug Report" by the counter-narcotics department of the Turkish police shed light on the country's efforts to curb drug smuggling as well as drug use. The report, compiled from data by all government agencies involved in the fight against drugs, points out that 206,314 suspects were detained in more than 144,000 drug-related cases. There is a 21% increase in the number of captured suspects, but the report says there is also an increase in the number of cases. Turkey is trying to shed its image as a transit country and at the same time is fighting against domestic drug use.

In last year's operations, 18.5 tons of heroin, 80.7 tons of cannabis and "skunk" (a genetically modified or hybrid strain of cannabis) and 1.5 tons of cocaine were seized. Police also confiscated 566 kilos of methamphetamine and more than 1.2 tons of a cheap synthetic cannabinoid known as "bonzai."
Authorities also seized 8.9 million ecstasy pills and 22.7 million Captagon pills in nationwide counternarcotics operations. Read the full article 
---------------------------------------------
Union Chair Forgets to Turn Microphone Off: 'If This Took Longer, We Would Mess Up'

After accepting the government's offer for a lower increase in salaries, Türk-İş Chair Atalay said to Labor Minister, "If this takes longer, we will mess up. At least this way, I finished it."
Confederation of Turkish Trade Unions (Türk-İş) came to terms with the government on a collective labor agreement for public employees on Monday (August 12), giving up its previous demands and accepting the offer of the government.
Türk-İş Chairperson Ergün Atalay and Minister of Labor Zehra Zümrüt Selçuk held a joint press conference to announce the agreement that concerns more than 500 thousand employees.
At one point, Atalay turned to the minister while covering the microphone on the table with his hand. But there were also other microphones of press members on the table. Hence, his words were heard: "If this takes longer, we will mess up. At least this way, I finished it." Minister Selçuk nodded her head but did not say anything.
Before the negotiations started earlier this month, the Türk-İş demanded that the lowest wage be increased to 3,500 Turkish liras (~625 US dollars), all public workers have a gross wage increase of 300 TRY on an equal basis as well as a wage increase of 15 percent in the first six months and an increase of inflation+3 percent in the second, third and fourth halves. Read the fullarticle

---------------------------------------------

Turkey gives contractors generous guarantees for hospitals
Turkey's government has given generous guarantees to contractors who are setting up new city hospitals under the umbrella of the state health system, said Murat Muratoğlu, a columnist for daily newspaper Sözcü.
The firms are building the hospitals on free Treasury land and then renting the facilities to the state over at least 25 years, Muratoğlu said. The contracts include payments from the government to the private sector that guarantee that the hospitals are used at a minimum capacity of 70 percent, he said. As well as renting the facilities to the government, the companies will make money from x-ray machines, cleaning and security services, laboratories and restaurants, the columnist said. Income can also be earned from car parks and other facilities such as snack bars, he said.
Turkey's government has been criticised by opposition parties and some analysts for awarding revenue guarantees to firms in the construction industry for building infrastructure such as bridges, roads, tunnels and airports. The projects have caused losses for the Treasury when they failed to meet agreed targets for their usage. The hospital construction agreements also include tax breaks and allow the firms to extend contracts to 49 years, Muratoğlu said.
--------------------------------------------

Security force vehicles killing civilians with impunity in southeast Turkey
Turkish authorities are turning a blind eye to a rising number of accidental deaths caused by armoured vehicles in Kurdish-majority regions, leaving grieving families with little chance of finding justice. 
A report by the non-governmental Human Rights Association's (İHD) Diyarbakır chapter found that 36 civilians, including 16 under 18 years of age, were killed by armoured vehicles in Turkey's Kurdish-majority eastern and south-eastern regions from 2008 to 2018, while 85 people were injured. Just in the past three years in Diyarbakır, 12 civilians, including two children, were killed by armoured vehicles.
Turkey has not documented any efforts to prevent further deaths. Armoured vehicle drivers get off scot-free or with minimal sentences that are often deferred, while grieving loved ones, rather than receiving justice, can face a bill from the state for vehicular damages.
On June 19, 2017, three civilians, including 10-year-old Zilan Yamankılıç, lost their lives when a police armoured vehicle crashed into their bus in Diyarbakır. Driving home from her memorial service a few days later, five members of Zilan's extended family lost their lives in another crash, marking the highest death toll in a single accident involving an armoured vehicle. Read the full article
------------------------------------------

Erdoğan's S-400 gamble seems to have paid off
With no punitive U.S. measures on the horizon a month after Turkey started receiving Russian missile systems, Turkish President Recep Tayyip Erdoğan's gamble over the S-400 purchase seems to have paid off, though sanctions could still come, the Financial Times said on Wednesday.
After the delivery of the Russian missile systems to Turkey began last month, many analysts said that U.S. President Donald Trump would be pushed to impose sanctions under the Countering America's Adversaries through Sanctions Act (CAATSA), which bars U.S. allies from buying weapons from Moscow. 
Over concerns that the S-400 could allow Russian subterfuge on F-35 stealth fighters, Trump halted the delivery of 100 F-35s Turkey purchased from the United States, while the Pentagon suspended Turkey's participation in the F-35 programme, a huge blow for Turkey's defence sector.
Before the delivery of the Russian systems started, Erdoğan said Trump had assured him that no sanctions would be imposed over S-400 acquisition, after the two met at the G-20 summit in Japan in late June. But given the bipartisan support in Congress to punish Turkey, the fact that the threatened sanctions have not materialised after one month has been a surprise, FT said.  "No one expected this outcome," Aslı Aydıntaşbaş, a senior policy fellow at the European Council on Foreign Relations, told FT. "Erdoğan took a huge gamble and it paid off — for now." Read the full article
-----------------------------------------

Lottery tender gives Turkish pro-government business a monopoly on lucrative sector
Turkish conglomerate Demirören Group has again won operating rights for a major national betting agency with a winning bid for the Milli Piyango national lottery. The manner in which the bid was won by Demirören Group, a conglomerate that is one of a select group of companies tightly bound to the ruling Justice and Development Party (AKP), has raised questions.
Last week's bid from the Sisal-Sans joint venture, a partnership between Demirören Group's Sans digital and Italian gaming firm Sisal Group, won the consortium a 10-year contract to run the lottery. The other three firms in the race withdrew their bids after the government, which controls the lottery through the Turkey Wealth Fund state asset management company, upped its demands in a last-minute change to the terms of the tender.
Demirören Group's consortium was the only firm left to bid for the giant tender, agreeing to provide the wealth fund with a 9.5-percent revenue share of a minimum of 9.32 billion liras ($1.7 billion) income per year from the lottery. Read the full article
----------------------------------------

News on Medipol University censored by management
The guest house and museum building within the Ankara Train Station campus belonging to the Turkish state railways (TCDD) was given to the privately owned Medipol University, which was administered by the Minister of Health Fahrettin Koca. After the initial news, it was further reported that the university was allocated other lands and buildings. 
Uncomfortable with the news, the university management launched legal action, requesting a large of news published to be censored. The court ruled 564 news including terms denoting unlawful and questionable transaction to be denied access.
"The language used is defamatory and accusatory, the language may lead the reader to be suspicious and hostile", said the court decision. Seven of the censored news was in soL news. News on the statements of the Chamber of Architects of Ankara and parliamentary questions submitted on the subject was denied access by the court.
-------------------------------------------

Lawyer jailed pending trial for "insulting the president"
Mehmet Demirlek, a lawyer in the Aegean province of Manisa, has been jailed pending trial on the charge of "insulting the president" on account of his social media posts. An investigation was launched against Demirlek after AKP Turgutlu district executives filed a complaint about the lawyer, claiming that he insulted President Erdoğan on Facebook. Demirlek, who was summoned to the local courthouse to give his statement as part of the investigation, was initially referred to a court for arrest.

The court released Demirlek under judicial control measures, pending trial. However, the prosecutor objected to his release and Demirlek was arrested the same night and jailed pending trial by the court on duty.
----------------------------------------------


Peace academic acquitted in "propaganda" case
A court in the western province of İzmir ruled for the acquittal of an academic who was charged with "spreading propaganda for a terrorist group" for signing the Academic for Peace statement of 2016, in what appears to be the first penal court decision to acquit a signatory following a landmark judgment from the Constitutional Court.
The top court ruled last month that the freedom of expression of a group of academic who were prosecuted and convicted for signing the peace declaration were violated. The İzmir 13th High Criminal Court cited the Constitutional Court judgment in its ruling and ordered the acquittal of defendant Ahmet Kardam as per Article 223/2-a of the Turkish Criminal Procedure Code (CMK), which states that a defendant is acquitted immediately in the event the act attributed to him/her is not defined by the law as an offence.
------------------------------------------

Court arrests 4 men allegedly abducted by Turkish intelligence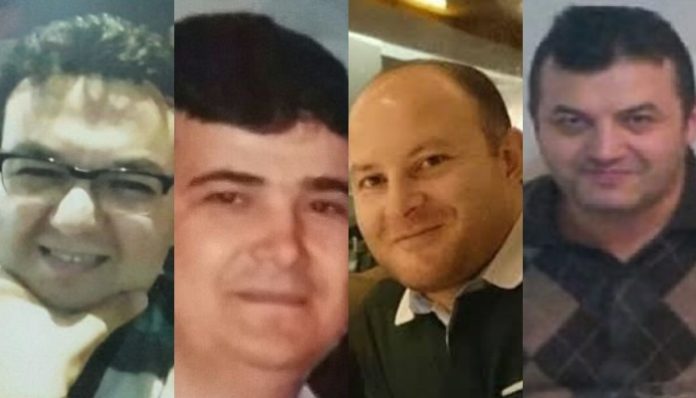 Four out of six men who were allegedly abducted by the Turkish intelligence agency in February and were missing for months were arrested by a court on Friday evening over Gülen links, according to Deutsche Welle Turkish service. Yasin Ugan, Özgür Kaya, Erkan Irmak and Salim Zeybek have been in police custody since July 28.
Gökhan Türkmen and Mustafa Yılmaz, who were also abducted in February, are still missing.
Ömer Faruk Gergerlioğlu, a Turkish deputy and human rights activist, called the court ruling a "scandal," reporting that the detainees did not even know the names of their attorneys, who according to officials they hired. Lawyers from human rights organizations were removed from the corridors near the courtroom by the police, the DW report stated.
Turkey accuses the Gülen movement of orchestrating a 2016 coup attempt, although it strongly denies any involvement. Since 2016 at least 24 Gülen-linked individuals have gone missing. Two of the abducted Gülen followers told Correctiv, a non-profit investigative newsroom in Europe, they had been subjected to torture and ill treatment by intelligence officers at a secret site in Ankara.
----------------------------------------

Bar association reports ill treatment of inmates by guards in Turkey's east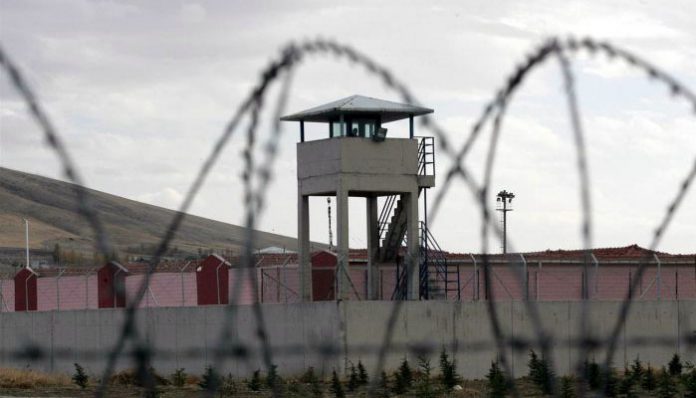 The Diyarbakır Bar Association has announced that scores of inmates in a high security prison in eastern Elazığ province were physically battered by guards, the Artı Gerçek news website reported on Friday. After a visit to the prison during which he and his colleagues met with inmates, bar chairman Cihat Aydın shared his observations at a press briefing.
Aydın said some inmates showed traces of physical violence and swelling on their bodies. He estimated that some 50 inmates were subjected to mistreatment based on the reported number of cells where prison guards entered to beat them. Aydın added that the prison administration refused to meet with them and that the bar has filed criminal charges with the Elazığ Chief Public Prosecutor's Office.
He also said the inmates were unable to have their voices heard since their petitions to authorities were delivered too late, if ever. "This indifference by the relevant authorities has led to an increase in rights violations in the prison," he said.
----------------------------------------------

Calling 2016 coup attempt a 'scenario' is not a crime, top Turkish court rules
Turkey's Supreme Court of Appeals has upheld a lower court's decision that acquitted a defendant who described a failed coup in Turkey on July 15, 2016 a "scenario" and a "play" set up by Turkish President Recep Tayyip Erdoğan, the Diken news website reported.
The defendant, who works at a court in Bursa's İnegöl district, told several people at the courthouse four days after the coup attempt that the coup attempt was staged by Erdoğan so that the necessary circumstances would converge in the country for him to become an executive president.
The defendant, whose name was not revealed, stood trial at the Bursa 9th High Criminal Court and was acquitted as the court ruled that the elements of a crime were not present. Read the full artcle
------------------------------------------


Netflix could lose majority of customers as Turkish watchdog set to censor internet platforms
Television and film streaming giant Netflix could lose almost 80 percent of its customers in Turkey after a new regulation allowing Turkish state television and radio watchdog to censor online streaming platforms, technology news site Webtekno said.

According to the new regulation that entered into force on Aug. 1, all broadcasters that want to provide radio, television, and other types of broadcasting services on the internet, including on-demand services in Turkey, will have to first obtain a licence from the state agency for monitoring, regulating, and sanctioning radio and television broadcasts (RTÜK). 

The measures will likely affect social media and online broadcasters such as Netflix, Turkey's BluTV and Puhutv, and YouTube and Facebook. Read the full article

---------------------------------------------



Ankara ex-mayor accused of aggravated fraud
The ruling party's former mayor of the Turkish capital from 1994 to 2017, İbrahim Melih Gökçek, is accused of aggravated fraud, nationalist opposition daily Yeniçağ said on Sunday. Gökçek, known for embarking on dozens of eccentric and costly public projects in the Turkish capital, resigned following pressure from Turkish President Recep Tayyip Erdoğan
Inspectors filed a criminal complaint against Gökçek for aggravated fraud and spurious bill after they revealed that the shares of municipality subsidiaries were undersold and the municipality bought new companies for well over their worth, according to Yeniçağ.
The municipality bought 120,000 lira ($21,850) worth company, AFM Technology, for 999,000 lira ($181,890) and the municipality paid 6,7 million lira ($1,2 million) in seven months for goods purchases, call centre service and shipping, according to Yeniçağ, adding that there are four other companies linked to the fraud.
After the secularist opposition Republican People's Party (CHP) won the mayoral seat in Ankara and Istanbul in the March 31 local elections, new mayors made a point of focussing on waste by previous local governments in the two municipalities. Both Ankara and Istanbul have been run by the ruling Justice and Development Party (AKP) politicians for 25 years.
---