National Security Council intensifies efforts to combat Gulenists
13.1.2015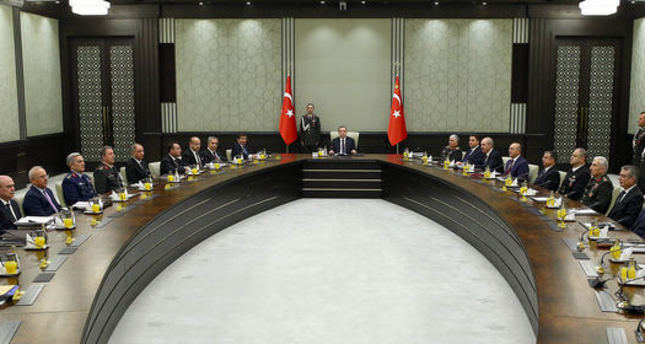 The last meeting of the National Security Council (MGK) on December 30, which was chaired by President Recep Tayyip Erdoğan, continues to provide further information regarding its strategy to combat the "parallel structure." 

The council finalized its agenda during the meeting to combat the Gülen Movement, which is defined as a "national enemy" by the government. It was also announced by the council that during each MGK meeting, the degree of the movement's threat to Turkey will be revised. 

During the last meeting of 2014, the MGK discussed various topics such as regional security threats caused by the terrorist self-proclaimed Islamic State of Iraq and al-Sham (ISIS), the current situation of the training and equipping program for Free Syrian Army (FSA) fighters and the strategic cooperation between Turkey and the U.S in this field. 

Additionally, Turkey's ongoing fight with members of the Gülen Movement holding positions in state institutions was also discussed in the meeting. The council made the decision to officially include the Gülen Movement in the country's Red Book, which includes a list of enemies of the state by MGK Secretary-General Seyfullah Hacimüftüoğlu following the approval by the Cabinet regarding the advisory decision made at this latest MGK meeting. 

Furthermore, the MGK has tightened up its security strategies in efforts to intensify the combat against the Gülen Movement. During future MGK meetings, the movement's field of activities will be determined and spontaneous decisions will be made. The MGK will also discuss and spot the movement's activity within the judicial and/or security bureaucracy at the meetings. Once the activities are determined, the council will decide on the degree of the threat to national security. According to local sources, the decisions will then be sent to the Cabinet for approval of a specific strategy. Through these decisions, the MGK aims to eliminate all national security threat risks one-by-one with basic resolutions. 

Additionally, Prime Minister Ahmet Davutoğlu recently made comments regarding the latest decision of the MGK on the "parallel structure" on the way back to Turkey from Paris. He said: "Turkey will not allow any establishment of a network within the bureaucracy as an alternative to the state hierarchy." 

Davutoğlu also commented on examination procedures within the government such as the Public Personnel Selection Examination (KPSS): "Many prejudices are caused by the current examination systems, especially the KPSS. We are closely following the developments on the procedure to end it. Through these decisions we aim to prevent the establishment and continuity of the parallel structure or any other structure similar to it."