The new Turkey
Investigation of the Gulen Movement/
Gülenist Terror Organisation - FETÖ
22-may-19
Since May 2016, the Gülen movement has been classified as a terrorist organization by Turkey under the assigned names Gülenist Terror Organisation (Fethullahçı Terör Örgütü; abbreviation: FETÖ) and Parallel State Structure (Paralel Devlet Yapılanması; abbreviation: PDY).  After the failed coup attempt in 2016, the government of Turkey blamed the group for the coup attempt. Source

---
21 May:

Arrest warrants out for above 200 FETO suspects
Turkish prosecutors have issued arrest warrants for 214 people with suspected links to the Fetullah Terrorist Organization (FETO), the group behind the 2016 defeated coup, a judicial source said Tuesday. Arrest warrants were issued for the suspects as part of a probe for 140 suspects into the terror group's clandestine network in the Turkish Armed Forces, a statement by the prosecutors in the capital Ankara said.
Among the suspects, who were found to have communicated with FETO's "covert imams" -- a senior FETO member -- via pay phones, were 41 on active-duty soldiers in the Land, Air and Naval Forces, the statement added.
Separately, Istanbul prosecutors issued arrest warrant for 74 more suspects with alleged links to FETO, judicial sources said. Security forces carried out operations in 18 provinces for 92 different addresses.
---
21 May:

Former soldier gets jail term over FETO link
Turkish security forces hold 19 suspects over ties with FETO, group behind 2016 defeated coup in Turkey
Turkish judges on Tuesday sentenced a former military officer to more than six years for his ties to the Fetullah Terrorist Organization (FETO), the group behind the 2016 defeated coup, according to judicial authorities. Emre Aslan, a former captain in the Turkish Armed Forces, was found guilty of being a FETO member and he was handed 6 years and 3 months of prison sentence.
Separately, Turkish security forces in the Aegean province of Izmir arrested a former police chief on suspicions of being a FETO member. In a separate operation in Izmir, security forces rounded up 13 out of the 17 suspects for their alleged links to FETO, security sources said.
Security forces in the capital Ankara also held 5 out of the 9 suspects sought for being FETO members, security sources said. The suspects were found to have communicated with FETO's "covert imams" -- senior FETO operatives -- via pay phones.

---
9 May 2019:


More than 3,100 sentenced in trials over FETÖ's coup attempt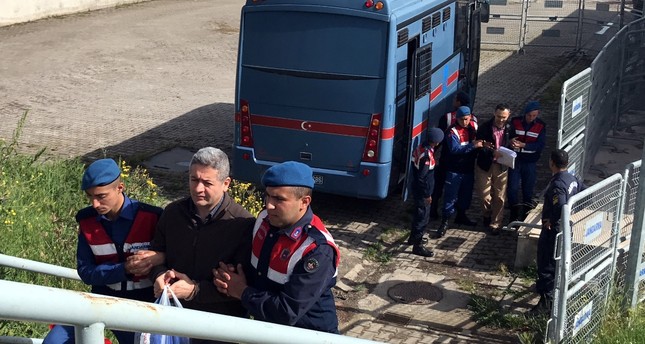 More than 3,100 people were handed down prison sentences so far in the 254 of 289 trials over the FETÖ terrorist group's 2016 coup attempt, which are expected to be concluded by the end of this year
Some 254 out of the 289 trials on the putsch bid ended with heavy sentences for those involved and 35 trials, mostly those with a high number of defendants continue. In the concluded trials, 1,952 defendants, ranging from generals to low-ranking officers were sentenced to life and a total of 3,101 defendants received varying prison terms for their role in the coup attempt.

More than 100,000 new investigations were opened into the attempt and FETÖ's role in the putsch. In trials wrapped up so far, 995 defendants were handed down aggravated life imprisonment sentence. This is the heaviest sentence in Turkey which abolished death penalty years ago. Those sentenced to aggravated life sentence has little chance for eligibility for an early release from prison. Among those sentenced to aggravated life imprisonment are 58 generals, 651 officers, 137 noncommissioned officers and 4 police officers. 15 generals, mostly those who were stationed in smaller cities where the coup had less impact, was sentenced to life imprisonment, along with 325 officers and 99 noncommissioned officers. Read the full article
---
Turkey's fight against FETÖ suspects continues with success both domestically and internationally, with more than 500,000 suspects detained since the failed coup, the interior minister said
Ankara's fight against the members of the Gülenist Terror Group (FETÖ) continues without compromise both at home and abroad, Interior Minister Süleyman Soylu said Sunday.
"If we do not assess this group as a terrorist and an intelligence group, then the assessment would not be complete. We are carrying out the efforts within an established logic. We are trying to cut down [their activities] as much as we can. Just like we fight against the PKK, there are also stages in our fight against FETÖ," Soylu told Anadolu Agency (AA) and added that the steps are taken jointly with the Justice Ministry and the Foreign Ministry both at home and abroad.
As part of the efforts taken domestically to eliminate the infiltration of FETÖ members into the Interior Ministry, Soylu said so far 38,578 personnel have been suspended from duties, including some 31,000 from the police, 4,159 from the gendarmerie, 348 coast guard personnel, as well as other administrative staff.
More than 30,000 arrested for FETÖ links since the coup bid
The Interior Ministry announced Monday that 30,709 people have been taken into custody for their links to the Gülenist Terror Group (FETÖ) since its members tried to seize power in a coup attempt in July 2016.
Speaking at a press briefing yesterday in the capital Ankara, ministry spokesman İsmail Çataklı said security forces "processed" 511,646 people on FETÖ-related charges over three years following the coup attempt that killed 251 people. "The process" refers to detentions and investigations. A total of 30,709 among them were arrested and are still in custody awaiting hearings in their cases or the start of their trials. Çataklı said another 19,329 people were convicted of FETÖ membership and related crimes. "We continue our fight against FETÖ with determination," the spokesman added. Source
Interior minister says more than 500,000 detained, 30,000 arrested over Gülen links
Turkey's Interior Minister Süleyman Soylu announced on Wednesday night that more than 500,000 people have been detained while 30,000 others were sent to jail over alleged links to the Gülen movement.
Soylu's remarks came during an interview on the 24 TV station.
The Turkish government accuses the Gülen movement of masterminding a failed coup attempt on July 15, 2016 and labels it a "terrorist organization," although the movement strongly denies involvement in the coup attempt or any terrorist activity.
Soylu was responding to a question about main opposition Republican People's Party (CHP) leader Kemal Kılıçdaroğlu's claim that ordinary and poor people were being sent to jail due to Gülen links.
"More than 500,000 detentions were made, and there are 30,000 in jail [due to Gülen links]. Kemal Kılıçdaroğlu lacks the capacity to understand the severity of this [fight against the movement].
Following the coup attempt, the Turkish government launched a massive crackdown on followers of the movement under the pretext of an anti-coup fight as a result of which more than 150,000 people were removed from state jobs in addition to others facing legal action.