The New Turkey


About the Gülen movement/Hizmet/Fetö

18-Oct-2019 17:35



The Gülen movement is an Islamic transnational religious and social movement led by Turkish preacher Fethullah Gülen, who now lives in the United States. The movement has no official name but it is usually referred to as Hizmet ("the Service") by its followers and as Cemaat ("the Community/Assembly") by the broader public in Turkey. Its largest body is the Alliance for Shared Values.
The Turkish Justice and Development Party (AKP) government, formerly an ally of Gülen, has designated the movement as a terrorist organisation under the name Gülenist Terror Organisation (Fetullahçı Terör Örgütü, FETÖ) or Parallel State Organisation (Paralel Devlet Yapılanması, PDY), and has accused it of trying to infiltrate the Turkish state and overthrow the government during a failed coup attempt in 2016
His movement has no address, no mailbox, no registration and no central bank account. Gülen supporters don't demonstrate for sharia and jihad, and the cemaat operates in secret. Gülen, the godfather, determines the movement's direction. Some members within the inner circle of power have been serving Gülen for decades.


They control the most important organizations within the movement, the publishing houses and foundations. Within the cemaat, individual world regions, like Central Asia and Europe, are managed by a "brother." The hierarchy extends all the way down to national and local "brothers" in city neighborhoods. (1)

---
5 October 2019:

Egyptian TV Interviews Gulen in Pennsylvania amid Sisi's crackdown on dissent at home.

The well-guarded house, where Gulen lives, lies in a mountainous area and its location is kept secret. Dehi clarified that was taken from New York to Gulen's house in Pennsylvania in a vehicle in the company of some Gulenists to keep the place secret.
Before starting the interview, which was broadcast on Saturday, September 9, 2019 on the pro-regime Ten TV channel, Dehi took a tour in Gulen's library and bedroom. Although it should have lasted for 15 minutes because of the "poor health condition" of Gulen, as Dehi said, the duration of the interview was about 20 minutes.

The beginning was about the tensions that the Egyptian-Turkish relations have been experiencing since the ouster of late President Mohamed Morsi mid-2013. Gulen claimed he had never learnt that an Egyptian official had ever offended the Turkish people, criticising Turkish President Recep Tayip Erdogan for describing the Egyptian coup leader as "Pharaoh" after overthrowing Egypt's first democratically elected president.
Gulen also alleged that Turkish officials tend to provoke controversies with Egyptian counterparts, driven by political reasons. Gulen also excluded that relations between Turkey and Egypt could be restored in the near future, despite Turkish leaders' statements that they are willing to achieve reconciliation. Gulen thinks the duration of the rift is very long and that improvement in bilateral relations is almost impossible at the present time.
"Erdogan does not listen to anyone, particularly us. He accuses us of terrorism. They sentenced me in absentia to life," Gulen said, calling on "Western and Muslim-majority countries" to unite to stand against the Turkish President. Read the full article
---
16 October 2019:

Trump's personal lawyer pushed president to extradite Gülen to Turkey
Rudolph Giuliani, the president's personal lawyer, repeatedly urged President Donald Trump to arrange for the deportation of a Turkish cleric, Fethullah Gülen, calling him a violent extremist who needed to face justice in Turkey, former White House officials said on Tuesday, according to The New York Times.
Turkey has requested that the United States hand over Gülen, a permanent American resident living in self-imposed exile in Pennsylvania, to be tried on charges that he instigated a failed coup in Turkey in 2016.
The disclosure came as Giuliani escalated his battle with Democratic lawmakers on Tuesday by defying a congressional subpoena for documents about a rogue campaign that pressured Ukraine's president to dig up dirt on Trump's political rivals.
The characterization of Gülen as a dangerous extremist echoed language that Michael Flynn, the former national security adviser, used to describe the cleric when he was serving as a secret lobbyist for the Turkish government while also advising Trump's campaign in 2016. Giuliani's push to have Gülen deported was first reported by The Washington Post.


22 September 2019:

Tens of thousands under confidential investigation over Gülen links
Turkish authorities are investigating a total of 152,399 people as suspects with links to Gülen movement, nationalist opposition daily Sözcü reported on Sunday.
Turkey maintains that the Islamic cleric Fethullah Gülen, who lives in self-imposed exile in the United States, and his followers are behind the failed coup attempt in July 2016. Tens of thousands of civil servants have been expelled and/or arrested over links to the group since the failed putsch.
Ankara maintains the Gülen movement was behind a long-running scheme to overthrow Turkish President Recep Tayyip Erdoğan by infiltrating Turkish institutions, particularly the military, police, and judiciary.
New names will emerge as confessors' testimonies, ByLock and payphone investigations continue, Sözcü said.
Turkish authorities believed an encrypted communication app called ByLock was used almost exclusively by the members of the Gülen movement. In the purge that followed the coup, many were detained purely because they were found to have the app on their phones. 
152,399 are under confidential investigation for alleged links to Gülen movement and the total number of people who are either on trial or investigated amounts to 221,966, according to Sözcü.
Meanwhile, 29,202 have been behind the bars over the links to Gülen movement as of Sept. 13, 2019, the daily said. 6,502 are jailed pending trial while 22,700 are convicted.

30 July 2019:

Turkey stopped Gülen from hiding almost $3 billion, columnist says
Turkey prevented Islamic preacher Fethullah Gülen from siphoning off or hiding some 16 billion liras ($2.9 billion) in assets at companies he controlled, according to columnist Dilek Güngör.
The assets at 882 companies seized from Gülen and his alleged supporters since 2016 have grown to 61 billion liras from 45 billion liras, Güngör wrote in Sabah newspaper on Tuesday. The increase came because the officials now running the firms have discovered assets, revenue and capital that were previously hidden from the authorities, she said.
Turkey blames the Gülen movement for masterminding a failed military coup three years ago. It has since seized firms believed to be under the control of the group and arrested tens of thousands of its alleged followers on terrorism charges.
"The companies are now being properly run and the state, and those who work for them, are benefiting," said Muhiddin Gülal, head of a state-run fund that controls the firms, according to Güngör.
The assets of the Boydak Group of companies have increased to 11.7 billion liras from 7.7 billion liras, Güngör said. Assets of the Koza-Ipek group rose by 54 percent to 8.24 billion liras, she said.
Gülen resides in the United States. The U.S. authorities have yet to start extradition proceedings against the ageing preacher citing lack of evidence of complicity in the coup. Turkey says it has provided stacks of evidence that proves he was involved.
Turkey released Andrew Brunson, a U.S. pastor, from custody last year after his detainment on terrorism charges prompted President Donald Trump to levy sanctions against the country. It was widely believed that Brunson was held due to the refusal of the United States to hand over Gülen. Many Turks believe the Central Intelligence Agency provided funds and support for Gülen and his allegedly moderate form of Islam.
The Gülen Community from Service to FETÖ
11 April 2018


In Turkey, the term "cemaat" - which roughly translates to "community" - has become synonymous with the Gülen movement. Although the Gülen community was the result of a decades-long process, the movement only came to light politically and socially at the end of the 1990s when Fetullah Gülen, founder of the Gülen Movement, was seen photographed with then-prime minister Tansu Çiller.  
Gülen was born in Erzurum, in Turkey's northeast, in 1941 and was raised in a conservative environment. His childhood and formative years were crucial in shaping his future teachings on Islam. Erzurum remained immune from the radical modernist reforms of the 1930s, and traditional Islamic culture played a significant role in everyday life.
Academic Şerif Mardin coined the term "daily Islam" to describe how Islamic traditions shaped everyday life. The Gülen community stems from the Nur movement as Gülen was heavily influenced by the teachings of Said-i Nursi (1874-1960), who was a significant Islamic thinker.
The Gülen movement was formed in the 1970s on the foundation of incorporating traditional Islam into daily life with communal living - the tenets of which were laid out in Nursi's seminal work, Risale-i Nur.
Gülen took Nursi's concepts as a basis for his intellectual teachings, particularly in forming a group identity. In this way, the Risale-i Nur serves as a means to protect Gülen and his followers from the negative aspects of modernity as well as a bridge between contemporary Muslims and Islamic tradition. At the time Gülen founded the community, he spent time with each of his students, went to camps with them, began forming an intellectual basis, and first expressed what he wanted to do.
The community named itself the "Service Movement" (Hizmet Hareketi) during the 2000s. Barış Müstecaplıoğlu, formerly a member of the Gülen community, said the movement had a hierarchical structure.
"The movement has a hierarchical structure like in every major company (that can be categorised as a consultancy). The details are unknown and change with the movement's development, but there are imams (administrators) responsible for various groups of countries followed by imams responsible for countries.
"Imams in charge of cities in Turkey report to the imam in charge of Turkey. Each city is divided into regions based on their size, and the regions are divided into neighborhoods, each of which has a separate authority. Beneath neighborhood imams are imams in charge of houses and dorms that are part of said neighborhood.
"Everyone meets with their superior for a weekly consultation to discuss developments of their followers, give reports on subscriptions to their magazines or newspapers or donations made, as well as talk about project-based issues such as collecting animal hides during the Feast of the Sacrifice or about an organisation at a school.
"During these meetings, orders and recommendations are shared with the whole congregation in a hierarchical fashion from those higher up going down from imam to imam. This is where common attitudes about politics and the country's agenda are passed down, and these ideas are then further shared with the pupils at the homes and dormitories. They are also organised at every school."  
The terminology used by members of the community provides insight into the structure of the movement:
Risale-i Nur: This refers to the books written by Said-i Nursi, who was the founder of the Nur movement. They are even more important than the books written by Gülen, particularly as Gülen often takes ideas from Nursi. Followers believe that these books reveal all the facts of the Quran. They also read these books more than the Quran as they believe that reading the Quran by itself risks misinterpretation. True believers think that Allah commanded Said Nursi to write Risale-i Nur.

Bediüzzaman: Nickname used by followers to refer to Said-i Nursi. It is used to mean "wonder of the age."

Şakird (Disciple, Follower): This is how people of the Gülen community address themselves, and it is used to refer to disciple, pupil, and student. Male and female disciples live far away from each other.

Hizmet (Service): This is the name given to the effort to Islamicise society and the people, as well as the community itself. The people in the movement who understand "hizmet" strive to live their lives in accordance with religious rules.

Ağabey (Big Brother): This is the name used to refer to older disciples within the community by younger pupils.

Sohbet (Conversation): This refers to sessions in which followers read and discuss sections from books written by Fethullah Gülen or Said-i Nursi. During these talks, the ağabeys also discuss how to apply these principles to daily life and answer any questions that students might have about religion.

Istişare (Consultations): These are meetings held by imams of houses or dorms to discuss sensitive issues related to the organisation. These consultations are typically held daily or weekly and address topics such as reading competitions or worship assignments. The imams also consult with higher imams that they report to and talk about more important topics. Everyone meets with their superior in a sort of staircase fashion, with topics of concern beginning at the bottom transmitted to the top until they are shared in Gülen's consultation.

Country/Territory/District/Home Imam: This is the person responsible for disciples in a certain place. He is also a disciple but older and more experienced. These imams are selected by the service they have performed up to that point and how easily they have been able to carry out orders from their ağabeys above them. They are assigned to more important roles through promotion.

Esnaf (ArtisanEsnaf): Businessmen who are able to provide financial support to the movement are called esnaf. Some are engaged in smaller trading activities, and some are owners of big holding companies. They finance schools, provide scholarships to children, and then put them to work in their companies. They also provide funds for big projects carried out by newspapers, television companies, and financial institutions.

Dost (Friend): This refers to people who are not followers of the Gülen movement or who have not adopted principles set out by the community but who are sympathetic to the cause. They support the community by having similar thoughts such as that the schools abroad are beneficial to the country. Most are atheists or Christian priests. Most do not know about the inner workings of the Gülen community.

Nurcu: Followers of Said Nursi and Risale-i Nur. Undoubtedly, the Gülen community is the most significant among them.

Müspet: This term refers to people who bring earning potential to the community, and there are different levels to this as well.

Ehl-i Dünya: The name given to anyone who has not placed religion at the center of their life.

Himmet: Donations made to the community.

Işık Evler (Light Houses): This is a kind of nickname used for communal houses.

Ilgilenmek (Care): This is a follower who has dedicated their life to keeping track of people (generally children) who could contribute to the community. At the weekly consultation, this carer reports to the imam on the people they are responsible for on whether or not they prayed, which conversations they went to, which books they were given to read, and what they did during the week. Sometimes, younger disciples will joking use the term "kafalamak" amongst themselves, which means "to convince someone".
Some of the biggest investments made by the Gülen community are in the field of education. These schools - which are known as Gülen schools and can be found throughout the world - are private and encompass all levels of the education system, including pre-school, primary, secondary, and tertiary.
Gülen schools operate in 140 countries and are estimated to number at more than 11,000. Even though they are independent of each other in terms of name and legal status, they are known to have originated from the Gülen movement. These schools offer classes in the language of the country they are in, the most commonly used foreign language where they are based (mostly English, Russian, Persian, or French based on the location), and in Turkish as an elective.
Teachers at these schools also teach Turkish culture (Turkish folk dances, poetry, songs, theater, etc...). The International Turkish Olympics, which was supported by Turkey's incumbent party at one point in time, is one of the most important activities organised by these schools. In 2012, the 10th annual competition was held in Türk Telecom Arena Stadium in Istanbul and attracted 100,000 spectators. The closing speech was made by Turkey's then-prime minister Recep Tayyip Erdoğan.
As you can tell from the information provided above, the Gülen movement is extremely organised from an economic perspective, and its resources are scattered across the globe. In light of this, it is difficult to determine how much the community was financially affected when the Turkish government took over its resources.Source
In one of his (Fethullah Gülen) sermons, he called upon his students to establish a new Muslim age.

He advised his supporters to undermine the Turkish state and act conspiratorially until the time was ripe to assume power. "You must move in the arteries of the system without anyone noticing your existence until you reach all the power centers … until the conditions are ripe, they (the followers) must continue like this. If they do something prematurely, the world will crush our heads, and Muslims will suffer everywhere. (…) You must wait until such time as you have gotten all the state power (…) Until that time, any step taken would be too early -- like breaking an egg without waiting the full 40 days for it to hatch. It would be like killing the chick inside." (1)

 It would be like killing the chick inside. The work to be done is [in] confronting the world. Now, I have expressed my feelings and thoughts to you all -in confidence … trusting your loyalty and secrecy. I know that when you leave here – [just] as you discard your empty juice boxes, you must discard the thoughts and the feelings that I expressed here. Source

When a recording of this speech was leaked to the public in 1999, Gülen had to flee from Turkey. He claims that his words were manipulated. He has been living in exile in the United States ever since. Source

Religious conservatives.On 10/12/2011 Students who have taken these courses describe how the "elder brothers" who run these Lighthouses maintain an intense curriculum that keeps the students at school late and on the weekends instead of out socializing and engaging in behavior frowned upon by religious conservatives.

---
4 March 2019:

Turkish gov't pays cash rewards for apprehension or death of Gülen supporters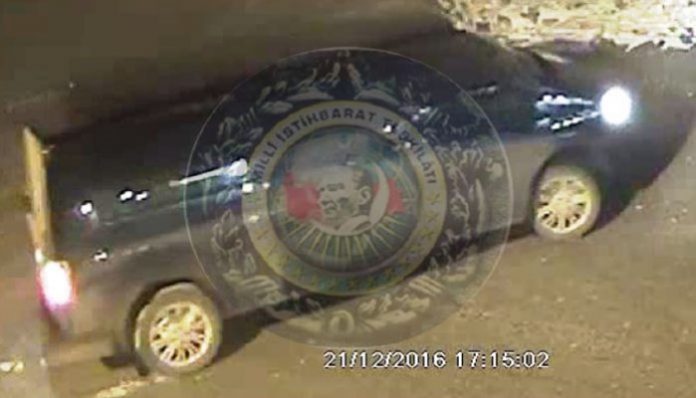 Turkey's Interior Ministry has paid more than 19 million Turkish lira to 249 people who provided information leading to the arrest or were instrumental in the death of supporters of the faith-based Gülen movement, a pro-government newspaper reported on Tuesday.
A report by Burak Doğan in Yeni Şafak stated that the program is titled "Homeland Reward" and the recipients' identities are not released. The award is given to people who locate or murder suspects wanted by the state, particularly Gülen movement supporters. The reward program has reportedly been in effect since Aug. 31, 2015 and the rewards are paid in cash
Statements from Fethulla Gulen