The new Turkey
Food terrorism
29-mar-19
On 6 February 2019 Ahval wrote that Turkish Treasury and Finance Minister Berat Albayrak said high inflation in Turkey was caused by "food terrorism", vowing to take measures next week to stop it. With this he introduced a new form of terror and a new enemy of Turkey.


In another article they followed this up and wrote:

Albayrak blames "food terrorism" for Turkish price increases
Turkish Treasury and Finance Minister Berat Albayrak blamed high inflation in Turkey on "food terrorism", vowing to take measures next week to stop it. Albayrak said some candidates for opposition parties in the March 31 local elections were stoking the situation, which would not be permitted, Hürriyet newspaper reported .
"Don't be surprised -- people supporting terrorist groups who are killing the country are not meant for the kitchen," he said. 
------------------------------------------

27 March 2019:

Vegetable prices up 40 percent in Ankara in 2019 - report
Vegetable prices in the Turkish capital of Ankara increased 40.11 percent in the first three months of the year, according to a report by Turkey's biggest trade union confederation, Diken news reported on Wednesday.
Türk-Iş said food prices in Ankara fell 0.73 percent in March, while increasing 21.13 percent on a year-on-year basis. 
Meanwhile, vegetable prices increased 6.28 percent in March, with the average per kilogram price of vegetables increasing from 7.33 lira ($1.3) to 7.79 lira ($1.4) in one month, the Türk-Iş report said. 
According to the report, the basic expenditures of an average four-member household increased to 6,560 lira ($1,200), while the monthly spending estimate for a four-member to get sufficient nutrition, known as the hunger threshold, stayed at 2,014 lira ($369)
Turkish food inflation surged by 31 percent annually in January, preventing a slowdown in overall consumer price inflation, which edged up to 20.4 percent last month. Read the full article
-----------------------------------------

25 March 2019:

Grocery Stores Are at the Front Line of Turkey's Latest Political Battle
ISTANBUL—Every morning, men and women queue up outside a cavernous white tent on Taksim Square, here in central Istanbul, well before the first government trucks arrive carrying tomatoes, peppers, and other supplies. When they are let in, they calmly stock up on the few kilograms of fruit and vegetables they are allowed.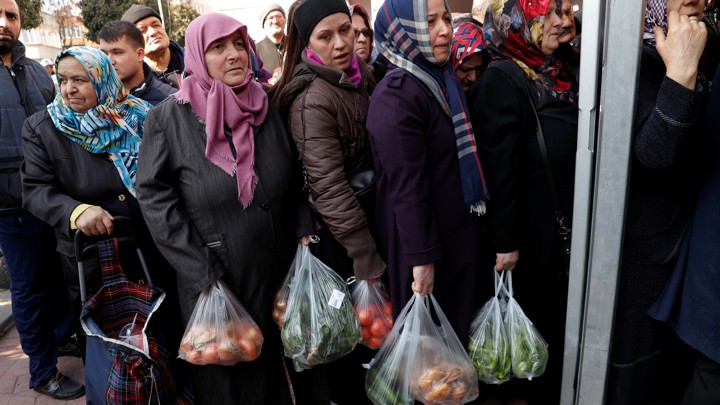 The scene is becoming a familiar one as Turkey sinks into recession. Dozens of these municipality-run stands, which sell produce at less than half what privately owned stores charge, have popped up across the country. Supermarket chains—accused by Turkish President Recep Tayyip Erdoğan of "treasonous" profiteering—are meanwhile selling some products below cost, or even pulling expensive vegetables from their shelves to avoid risking public ire.
With Erdoğan's dominant Justice and Development Party (AKP) facing nationwide municipal elections this weekend, this is a crucial front line: grocery shopping.
Read: Erdoğan tilts at windmills as lira's decline continues
For much of the past year, Turkey's economy has been teetering. A decade-long, credit-fueled economic expansion screeched to a halt in the wake of turmoil in Turkish financial markets last year, sparked by worries about Erdoğan's economic and foreign policies. The country's currency, the lira, has lost 40 percent of its value against the dollar in a year, feeding inflation that has shot up 20 percent, its fastest rate in 15 years. Hundreds of companies, possibly far more, have sought bankruptcy protection, and millions of people are out of work.
For ordinary Turks, the impact has been felt in myriad ways, but perhaps none more so than when it comes to groceries. The Turkish leader has in part blamed "food terrorism," by which he means exploitative pricing, for the flailing economy, and has taken a series of unconventional measures, including directives to retailers to drop prices and to state banks to issue discount loans, to push the economy to growth, whatever the cost.
Yet his remedies appear to treat only the symptoms of the economic crisis, not the underlying causes. Indeed, in seeking to shore up support, he might instead be making Turkey more fragile in the long run. His efforts are, however, part of a broader pattern: Already firmly in control of many aspects of Turkish life, from the judiciary to the press, Erdoğan is, critics say, now trying to strong-arm policy prescriptions for the economy.
"This isn't just an economic crisis, but a political crisis at the same time," says Uğur Gürses, an economist who used to work for Turkey's central bank and who now manages his own blog about the country's economy. "The belief that you can control prices with an iron fist … is unsustainable in an open economy."
Erdoğan says that shadowy foreign forces are behind the country's woes, and in his stump speeches at rallies, he has pledged to fight back. "It's out in the open that games are being played with Turkey as the price of eggplants, tomatoes, potatoes, and cucumbers climbs," he said at one campaign stop. "We will destroy the games of those who are terrorizing with fruit and vegetables."
Raids have been carried out at wholesale food markets to hunt down price-gougers. Police officers walk the beat in grocery stores to monitor prices. Inspectors have seized tons of onions from warehouses, fining the owners for hoarding, even though storing the bulbs is common practice to prevent rot.
Experts say that profiteering alone cannot be blamed for rising food prices. The lira's slump against the dollar has driven up the cost of imported fuel, feed, and fertilizer used by farmers, forcing them to pass on costs to consumers. And heavy storms in a key agricultural region in January hit output. Still, the tents are succor for Erdoğan's base, the city-dwelling poor who have been hardest hit by food prices that have risen by almost a third in a year.
"We were being crushed by the cost of food. But now our president is standing up for his people," Bahariye Bulut told me, weighed down by kilos of fresh vegetables after waiting in a long line outside the Taksim tent, which was emblazoned with the government logo "Total Fight Against Inflation." The 63-year-old, who relies on her husband's pension to run their household, said her prayers were answered when the stands opened.
Just two blocks away, however, business has been nearly halved at Faruk's greengrocer since the government introduced the food stalls. Faruk, who declined to give his last name for fear of retribution for speaking out, has slashed his profit margin on the fruits and vegetables he buys from wholesalers, but still can't compete with the cut-rate government-subsidized food sold up the street.
"The president attacks shopkeepers and farmers, but if I go out of business," he said, "that's another family that will go hungry."
Large supermarket chains, facing regulatory investigations, have dropped prices on staples such as onions and potatoes, posting signs that claim they are selling them at a loss, and have set limits on how much customers can buy at one time. Some stores have even stopped stocking expensive eggplants and peppers to avoid angering Erdoğan.
While food sellers have taken the brunt of the pressure, Erdoğan has sought to mobilize other businesses in his economic crusade. State-run banks are offering Turks cheap mortgages and loans to pay off credit-card bills, and regulators have opened probes of private banks, including JPMorgan, for allegedly encouraging clients to buy foreign currency ahead of the election. Employers in January were required to raise the minimum wage by 26 percent, and now the government is even paying three months of wages and a year of social security for new workers, a bid to coax businesses to hire more people and rein in unemployment, which is at almost 14 percent. Among youth, one out of every four people is out of work.
"None of these address the structural reforms the Turkish economy requires, but instead treat the condition with bandages and aspirin," says Faik Öztrak, a former head of the Turkish treasury who is now a lawmaker with the opposition Republican People's Party.
During Erdoğan's 16 years in power, his electoral success was largely built on his stewardship of the economy, as Turks saw their income triple. But a sweeping crackdown in 2016 after a failed military coup expelled tens of thousands of his opponents from civic life and has allowed Erdoğan to rule largely without check. He was then elected in June last year to a vastly empowered presidency and named his son-in-law as finance minister to manage the economy. The concentration of power unnerved investors, especially after a diplomatic row in August between Erdoğan and Donald Trump over Turkey's arrest of an American pastor.
The economy is the top worry in opinion polls ahead of the March 31 election, when nearly 58 million voters will choose more than 80 mayors. The dissatisfaction has put control of the country's two biggest cities, Ankara and Istanbul—both longtime AKP strongholds—in play for the first time in two decades.
Even though his name is not on the ballot, Erdoğan has been leading near-daily rallies ahead of the polls. Municipalities are a key source of political patronage, and losing a city such as Istanbul, where Erdoğan was mayor in the 1990s, means ceding control of huge budgets and government contracts that create jobs.
For Lütfü Güler, a 75-year-old retired civil servant, the lines that form outside the food tents before the first trucks arrive each morning are an attempt to "buy votes."
"Look around; everyone is unhappy. These lines are shameful," he says. "We have destroyed everything, but no one takes responsibility. Who has ever heard of a food terrorist before?"

Source: www.theatlantic.com/international/archive/2019/03/
erdogan-grocery-prices-turkey-economy-lira/585646/
On 11 February hurriyetdailynews wrote:

Turkish President Erdoğan launches war on food price 'terror'
President Recp Tayyip Erdoğan has called recent excessive vegetable and fruit price hikes "food terrorism," vowing that sales launched on Feb. 11 by several municipalities across the country will lead to market control.
"In recent days they began playing a game on Turkey. Prices of eggplants, tomatoes, potatoes, and cucumbers began to escalate. It was a terrorist attack," Erdoğan said at the opening ceremonies of multiple projects in Ankara. He likened the government's struggle against hike in food prices to its fight against terrorism.
He identified the increase in food prices as "games launched against Turkey."
"We will not allow those to launch this terror," he added.

---
4 February 2019:

Turkey's ailing agriculture faces even bleaker future
Soaring food prices have emerged as one of Turkey's gravest economic woes, and everyone seems to agree now that food inflation will be a major factor in the March 31 local elections. True to style, the ruling Justice and Development Party (AKP) has sought to rein in the prices through coercive measures, refusing to acknowledge the core of the problem.
In November, the authorities raided onion depots at the behest of President Recep Tayyip Erdogan, who blamed hoarders for the surging price of onions, a key staple of Turkish cuisine. The raids, however, failed to bring the prices down and ultimately, the government had to zero down tariffs on onions to cheapen imports.
More recently, Erdogan lashed out at groceries and supermarkets over fruit and vegetable prices as some of them reached unprecedented levels. "Interest rates and inflation have declined, but the prices of fruits and vegetables at grocery stores continue to rise," he said Jan 21. "If grocery stores continue to try to exploit my people, it is our duty to hold them to account and we will." In response, supermarket chains chose to do away with some products, including eggplants and green peppers, instead of selling them at the soaring prices and risking the wrath of the government.
Someone had to remind Erdogan, however, that the ostensible drops in interest rates and inflation owed to tax reductions introduced by the government and that those incentives had no impact on food prices, fueled mainly by the rising cost of imported agricultural inputs such as fertilizers, pesticides and fodder. How can one pull down prices if one cannot decrease the cost of inputs?
According to the Turkish Statistical Institute (TUIK), agricultural producers increased their prices by 16% in 2018, while the prices of industrial products rose nearly 34%. The 18-point gap points to a sharp trend of decoupling after 15 years of largely parallel trends in the two sectors. It means that Turkey's already ailing agriculture could shrink further as more producers lose hope in the sector and quit.
While seeking to discipline prices through imports — an effort that will come to nothing — the AKP government has refused to confront the core of the problem, which is the shortage in agricultural supply. The Central Bank referred to the issue in an inflation reportlast year, saying, "Occasional supply shortages in unprocessed food products in Turkey that lead to sudden and sharp price increases mainly stem from structural factors. Here, the inability to make an efficient and dynamic agricultural production plan is considered to be a significant structural problem. Developing a production plan requires strengthening of agricultural statistics, yield estimation and early warning system infrastructure."
The import measures serve nothing but to further discourage producers, who have been already quitting the sector. The share of agriculture in gross domestic product shrank to 6% in 2017 and 5.7% in the third quarter last year, down from 10% in 1998.
Turkey, which has major potential for agriculture and husbandry, has seen its agriculture decline since the 1980s, when Ankara began cutting support for the sector. Public enterprises that significantly propped up the sector prior to 1980 were privatized for being a burden on the treasury. While all European Union countries maintained and occasionally even boosted support for agriculture, Turkey moved in the opposite direction in the name of fiscal discipline. In April 2006, a new agriculture law ostensibly guaranteed support to farmers, stipulating that budget funds allocated to that purpose should amount to at least 1% of GDP. Yet, according to Turkey's Agricultural Chambers Union, the figure has hit as low as 0.56% of GDP.
Last year, primary expenditures rose nearly 22%, while agricultural supports increased only 14%, accounting for less than 2% of budget expenditures, although the agricultural sector provides nearly 19% of all jobs in the country.
The waning support has driven many producers away. As of October 2018, the share of agricultural jobs in overall employment was 18.4%, down from nearly 36% in 2000, according to official figures. The data show that 2.4 million people quit the sector in that period, bringing agricultural employment down to 5.3 million people.
Standing out here is the migration of young rural generations to urban areas without trying their hand at agriculture at all. According to Agriculture Ministry estimates, the average age of farmers is 55. Projects aimed at raising "young farmers" appear far from yielding results as they remain limited to handing out grants of 30,000 Turkish liras (about $6,000) to young people.
The aging population of rural areas and the flight from the sector have left large swaths of agricultural land uncultivated, while many fields close to urban centers have become plots for construction. According to TUIK data, the country's agricultural lands amounted to 38 million hectares in 2017, shrinking by an alarming 7.3% from 41 million hectares in 2001. Inadequate irrigation infrastructure is another problem, with only a third of agricultural lands irrigated.
Stockbreeding is in a decline as well amid shrinking pasture areas and low grass yields. As a result of policies promoting stockbreeding reliant on industrial fodder, more than 50% of raw materials used to make fodder have become dependent on imports. Due to the sharp depreciation of the Turkish lira and the resulting increase in the cost of imports, fodder prices have shot up, dealing another blow to stockbreeding. In terms of barley and corn, two key inputs for the fodder industry, the country's self-sufficiency rates stand at 89% and 88%, respectively, necessitating imports for fodder.
In sum, the steep increase in foreign exchange prices has aggravated the structural problems of agriculture, leading to fresh hardships that discourage farmers from soldiering on. What needs to be done is to outline a thorough approach — from field to table — and draw up solutions to chronic problems, primarily the high input prices, the demotivation of farmers, the rising average age of farmers and drawbacks in the marketing chain that push prices up until they reach the consumer. Other important issues that need to be addressed include output losses, disasters stemming from climate change, the negative impact of imports and the poor organization of producers.
A comprehensive agricultural policy encompassing all those problems, coupled with determination to follow it up on the ground, will make for an efficient first step to revive Turkish agriculture.

Source: www.al-monitor.com/pulse/originals/2019/02/
turkey-ailing-agriculture-faces-even-bleaker-future.html


6 February 2019:

Turkish authorities raid wholesale vegetable markets in multiple provinces
Officials from Turkey's Trade Ministry conducted raids on wholesale vegetable markets in five different provinces, announcing that the ministry will soon take legal action concerning what it says are arbitrary price increases, independent news site T24 reported on Wednesday.
The report arrives as Turkish government continues its quest to curb food prices by issuing warnings to retailers and wholesalers amid soaring inflation. The findings of the raid conducted in Ankara, Adana, İstanbul, Mersin and Antalya, included ''extreme price hikes which do not correspond to supply and demand,'' T24 said. The ministry has announced that it will begin legal procedures against suppliers found guilty of price increases.

---
10 February 2019
Star's front page on Thursday reported comments by Erdoğan's son-in-law, Finance and Treasury Minister Berat Albayrak, who unironically described the continuing price increases in January "food terrorism."

---
12 February 2019:

Albayrak warns of Turkey food terror as he serves fruit & veg

Turkish Treasury and Finance Minister Berat Albayrak repeated a warning against those allegedly involved in so-called food terrorism as he appeared in an Istanbul square to support a government initiative to drive down the price of fresh produce.
Albayrak, speaking to citizens after he served them fruit and veg at a municipality sales point in Istanbul's Üsküdar district, said on Tuesday he would intensify a crackdown on speculators and opportunists who were driving up prices, local media including BloombergHT television reported.
Turkey's government is blaming unnamed food suppliers for compromising the nation's fight against inflation. The measures it is taking include some cuts to state expenditure. The ruling Justice and Development Party (AKP) is preparing to fight local elections on March 31 amid a severe economic downturn sparked by a currency crisis last year. Read the full article
---
13 Febuary 2019:

Turkish gov't to sell cheaper products online
Turkey's government will sell cheaper vegetables and fruits online besides their sales at physical points-of-sale set up in a number of districts by municipalities in the capital Ankara and Istanbul as part of efforts to fight against excessive price hikes which President Recep Tayyip Erdoğan recently described as "food terrorism."
Speaking in Ankara at an event on Feb. 13, Erdoğan said people are very angry with profiteers whose decisions impact the public's daily lives.........................
............"We are angry too. That is why we decided to sell vegetables and fruit at cheaper prices. The reason behind this move is not to compete with tradesmen and craftsmen," he said. "We have warned the profiteers. God willing, we will give economic hitmen an Ottoman slap," Erdoğan said. He also suggested that the cheaper vegetables and fruit sale will continue after the March local elections and spread to every corner of the country. Read the full article

---
20 February 2019:

Turkey's 'Food Terrorism': Blaming 'Global Powers' for Country's Ills
"Until today, [neither global powers nor their local Turkish collaborator subcontractors] have... been able to make Turkey bend down the way they want it to on any issue. Seeing that they could not [achieve their goals] by means of foreign exchange rates, interest rates, diplomacy or perception politics, they are now trying to do it through onions, potatoes, eggplants, cucumbers and peppers." — Turkish President Recep Tayyip Erdoğan. Read more..........


---
20 February 2019:

How Turkey's economic crisis will end
...................But while such a policy is detrimental to market actors, his supporters will salute him as a Turkish Robin Hood. Meanwhile, market actors like grocers, shopkeepers and later large companies and bankers will be presented to the public as the new terrorists. Read the full article