The new Turkey
Jailed Turkish admiral exposes torture he was subjected to
21-mar-19
15 March 2019:

Adm. Nejat Atilla Demirhan, who was sentenced to life in prison on charges involving a failed coup in Turkey in July 2016, has detailed what he went through following the coup and during his trial, in a letter to the Medya Bold news website.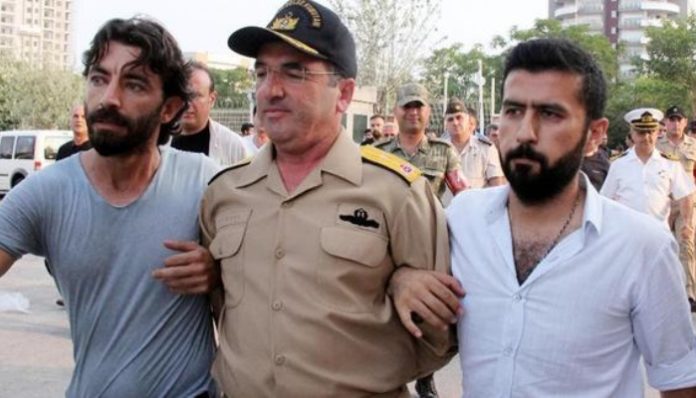 In an eight-page handwritten letter dated Feb. 16, the former garrison commander for the Mediterranean region revealed that he was subjected to physical and psychological torture in lengthy interrogations as well as handcuffed from behind and kept on his knees for 16 hours during his three-day detention from July 16 to July 19 at the counterterrorism branch of the Mersin Police Department.
Demirhan said the complaints he filed were not followed up on by the prosecutor's office or the judges.
He also recounted memories of witnessing inhumane treatment perpetrated on others, such as Hasan Basri Dağdelen and Süleyman Akçin, two police officers who he saw tortured while lying on the ground in straitjackets with their faces covered in blood.
Demirhan claimed there were cameras on the floors where they were held and interrogated and said their ill treatment could be established "if the records haven't been deleted."
Demirhan also alleged that the police destroyed hospital records documenting the torture.
The trial was based on the assumption that he was a coup plotter, was lying and abusing his right to defense, while anyone speaking unfavorably about him was considered to be telling the truth, according to Demirhan.
He also claimed that his two children were blackmailed and threatened into accusing him and his wife.
On the day of the coup, Demirhan was on vacation with his family. He received a phone call from another maritime commander who told him to get back to his troops in Mersin due to a "terror alert."
He was accused of taking part in the abortive putsch and resisting the police.
He underlined that in Mersin "no one was injured, no bullet was shot, no military vehicle or soldier was seen outside" during the coup.
Source: https://www.turkishminute.com/2019/03/15/jailed-turkish-admiral-exposes-torture-he-was-subjected-to-report/