The new Turkey


Photos of mistreatment by Turkish police leaked to social media
07-Jun-2020
Jun 01 2020 01:15 Gmt+3 Last Updated On: Jun 01 2020 01:34 Gmt+3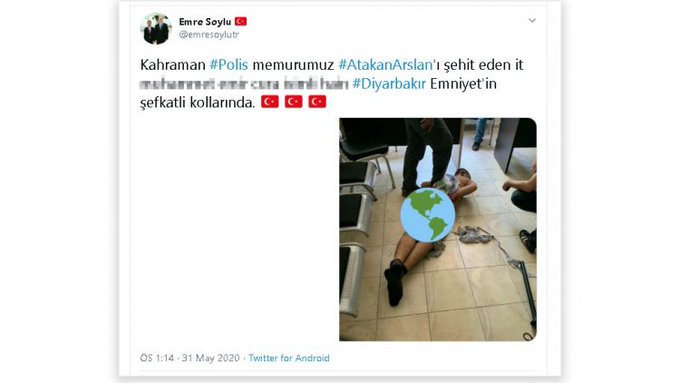 Emre Soylu, adviser to Nationalist Movement Party (MHP) deputy Olcay Kılavuz, on Sunday posted to his twitter account photographs showing a man being tortured in a police station in the southeastern Diyarbakır province.
"The traitor dog who martyred our valiant police officer is in the loving arms of security forces," Soylu said in a since deleted tweet.
First one of the two photographs Soylu shared showed a man, identified by the initials M.E.C., in a police van, hands cuffed behind his back, as he was detained over the killing of one police officer a day before. In the second photograph, M.E.C. is seen stripped naked on the floor, with a foot on his back and three onlookers present in the room.
MHP'li vekilin danışmanı övünerek paylaştı: Diyarbakır Emniyeti'nden işkence fotoğrafları
https://t.co/fY6ZB00NiH pic.twitter.com/VuM8GDgEJO

— sendika.org (@sendika_org) May 31, 2020
"There can be no exception for the crime of torture, which has been prohibited in absolute terms in national and international legislation, under any circumstances," the Diyarbakır Bar Association said in a press release. "Policies of impunity have turned torture and mistreatment into a judicial and administrative practice."
The pro-Kurdish Peoples' Democratic Party called for an immediate investigation on "members of the security forces who openly committed the crime of torture, categorised among crimes against humanity, and those who exhibited the crime" in a statement.
"The perpetrator (who martyred officer Atakan Arslan) M.E.C. was put in a police vehicle with his hands cuffed in the front," a statement by the Diyarbakır Governorate said. "During transport, the suspect took out a razor blade and attacked our officers on duty."
"Enemies of the nation don't stop their manipulations, naturally we continue with our explanations," Interior Ministry spokesman İsmail Çataklı said in a tweet where he shared a press release on the matter.
"We refuse the debate on a police murderer started strangely by those who did not offer condolences for our soldiers and police officers martyred in the weekend," Çataklı's statement said.
Çataklı touted Turkey's zero-tolerance policy against torture and said Committee for the Prevention of Torture reports found no torture in Turkey in 2017 and 2019.
The detained man had been stripped naked for a detailed search because of the razor blade found on his person, and the officers had used proportionate force, Çataklı said.
Interior Minister Süleyman Soylu had attended Atakan Arslan's funeral in person on Sunday.
The United Nations special rapporteur on torture, Nils Melzer, said in a 2018 report that in the immediate aftermath of the coup attempt on July 15, 2016, torture and other forms of ill treatment had been widespread, particularly in the period immediately after arrest.
Organisations including Human Rights Watch (HRW) have reported on torture and abuse in Turkish jails and prisons, particularly following the coup attempt in 2016. According to the reports, in the immediate aftermath of the attempt, torture and other forms of ill treatment had been widespread, particularly in the period immediately after detention.
A 2017 HRW report included details of police beating and threatening detainees with sexual assault and rape in order to obtain confessions of membership to terrorist organisations.
"Continued allegations of torture, ill-treatment, and cruel and inhuman or degrading treatment in police custody and prison and the lack of any meaningful investigation into them remained a deep concern," the HRW said in a 2019 report. 
Allegations of torture in police custody against Kurds have been on the rise since the collapse of a peace process between Turkey and the outlawed Kurdistan Workers' Party (PKK) in 2015. A HDP statement from 2019 mentioned repeated strip searches in custody and a detainee "tortured so badly that he can hardly walk." 
Source:https://ahvalnews.com/turkey-police/photos-mistreatment-turkish-police-leaked-social-media