+
The new Turkey
The Great Turkish Brain Drain
This some of a article published by Burak Bekdil December 19, 2018 at 4:00 am www.gatestoneinstitute.org/13434/turkey-brain-drain
...........................That leaves Turkish campuses with a growing number of eccentric, Islamist scholars who tend to increase their visibility, mostly through media or social media, by expressing their bizarre conservative ideas and unconditional admiration of their "great leader," President Recep Tayyip Erdoğan, his party and his policies.
"Academic bootlicking has become the campus norm," said the professor from Ankara. Not so shocking in a country where the president himself appoints presidents of all 200 or so universities. Recently, Islamist eccentricities in Turkish academia have become more visible than before, with secular Turks either going mad at fatwas or just laughing them away.
In 2015, Nureddin Yıldız, an Islamic scholar and president of the Sosyal DokuFoundation, argued that "working women paved the way for prostitution." Alparslan Kuytul, founder of another Islamic foundation, Furkan, said that a man would be sexually aroused if he saw the naked leg of his own mother.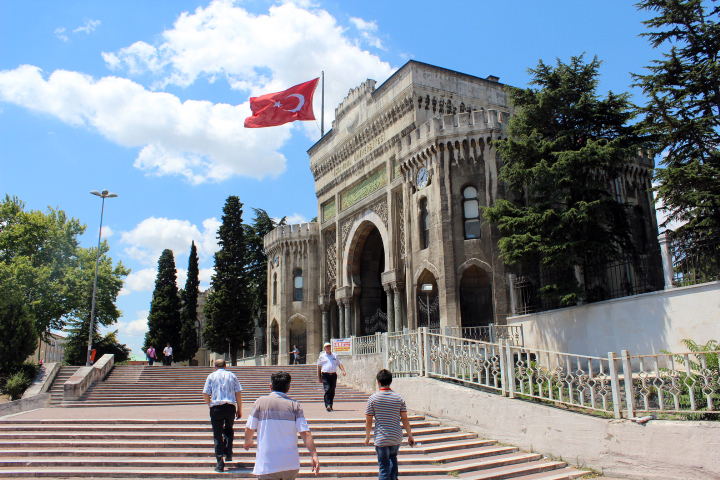 Dr. Yavuz Örnek, a pro-government academic from Istanbul University's Marine Sciences Faculty, claimed that technology was more advanced in the times of the Prophet Noah than it is today, saying Noah had talked to his son on a mobile phone in order to convince him to come aboard his nuclear-powered ark. Pictured: Istanbul University. (Image source: Mimihitam/Wikimedia Commons)
Associate Professor Teyfur Erdoğdu told state broadcaster TRT that he regularly met with Allah and the Prophet Mohammad in his dreams. Vural Bulut, a scholar at the Çanakkale 18 Mart University and head of the university's media center, called Erdoğan's opponents "sons of bitches". Another pro-government academic, Dr. Yavuz Örnek from Istanbul University's Marine Sciences Faculty, claimed that technology was more advanced in the times of the Prophet Noah than it is today.

Hosted by TRT, Örnek said that Noah had talked to his son on a mobile phone in order to convince him to come aboard his ark. And that ark, Örnek claimed, was made of steel construction resistant to waves as high as 400 meters. Noah's ark ran on nuclear power, he added.
In April, Necdet Budak, president of the Aegean University in Izmir, ordered his staff to line up by the road to greet President Erdoğan who wanted to visit the campus. A total of 382 academics and staff stood by the road "to welcome" the president. Budak is a former member of parliament from Erdoğan's Justice and Development Party.
Then there is quite a colourful personality, Ahmet Ağırakça, president of the Artuklu University in the southeastern province of Mardin. He proposed that university presidents should wear an Islamic sheik's turban instead of the Western robe. In another speech the man declared himself as "President Erdoğan's representative in Mardin".
In November, Professor Ibrahim Emiroğlu, head of the research center at the 9 Eylül University in Izmir, spoke at a conference. His speech was no less eccentric than his "scientist peers." Women having their period, he said, was an illness that "must be treated." He advised that 15-year-old girls should be married. He advised that all women should wear the Islamic headscarf or hijab, and he claimed that the "greatest threat [to society] is secularism". His professional title is "Dean of the Faculty of Aviation and Space." Seems fitting.
Professor Mehmet Karalı, dean of the faculty at Necmettin Erbakan University in Konya, tweeted that he "would not vote for any woman candidate" in forthcoming municipal elections in Turkey in March 2019, because, he argued, the best place for a woman was her home. An aerospace scientist who would not vote for a woman for mayor surely portrays "Turkish science" in the 21st century.
According to Turkey's top cleric, Professor Ali Erbaş, head of the Turkish government's powerful Directorate of Religious Affairs (Diyanet), "children who do not read the Quran are with Satan and Satanic people". Praising Diyanet, President Erdoğan's budget proposal for the financial year 2019 grants the general directorate a 34% increase to 10.5 billion Turkish liras ($1.97 billion), more than four times larger than the annual budget of 2.5 billion liras for the Science and Technology Ministry.
Academic rivalry in Turkey has simply turned into a rivalry of Islamist academics who want to impress their Islamist leader. The brain drain will gain momentum in the years ahead, leaving Turkish campuses to more monolithic thinking. The 19thcentury British statesman and prime minister, Benjamin Disraeli, said: "A University should be a place of light, of liberty and of learning." Instead, a Turkish university in the 21st century is a "place of darkness, of suppression and of highly questionable learning." Read the full article
Burak Bekdil, one of Turkey's leading journalists, was recently fired from the country's most noted newspaper after 29 years, for writing in Gatestone what is taking place in Turkey. He is a Fellow at the Middle East Forum.