+
The new Turkey
Abduction, kidnapping, extradition of persons
12-Nov-2019
6 November 2019:

Another missing Gülenist mysteriously reappears at a police station in Antalya
Gökhan Türkmen, who disappeared in February and was believed to have been abducted by Turkish intelligence, was "captured" on Tuesday in the southern Turkish province of Antalya, according to his wife. Türkmen's reappearance was announced by his wife, Zehra Türkmen, who on Tuesday tweeted that "[her] husband was captured and was being taken to the Ankara Security Directorate," according to a phone call she received from the Antalya police.
There were no details as to how and where exactly the man was captured.
Türkmen was one of six men who were abducted in February. He was abducted in Antalya. All men had been purged from state jobs due to their alleged links to the Gülen movement, which is accused by the Turkish government of masterminding a failed coup in July 2016. The movement denies any involvement in the coup.
Four of the abducted men were found in police custody in July, while one was found in police custody in October. More than 20 people were reportedly been abducted by Turkey's intelligence agency in a massive post-coup crackdown targeting Gülen movement followers in the aftermath of the coup attempt.
---

18 September 2019:

Turkish teacher says unidentified men tried to abduct him in Ankara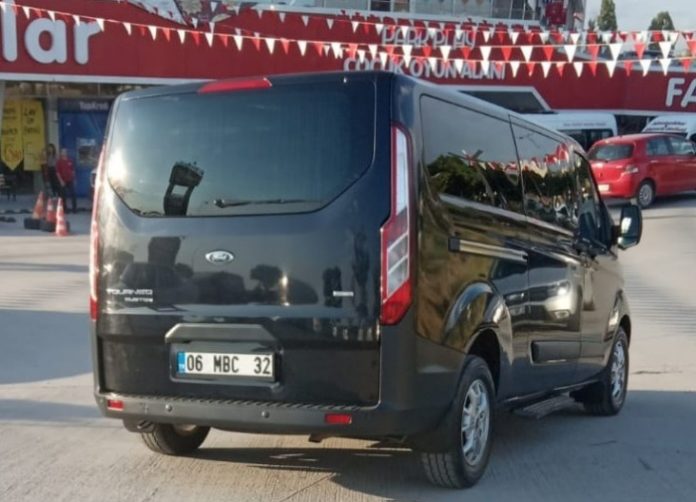 A Turkish teacher said three unidentified men tried to abduct him in Ankara as he was about to get into his car but that they fled after he started shouting and managed to attract a small crowd, Gazete Fersude reported on Thursday.
Hayrullah Narin is a public school teacher who is also a member of Eğitim-Sen, an education sector union critical of the Turkish government. Narin said one of the men had threatened him, saying, "We know the school where you work."
The unidentified men's vehicle that they had tried to put Narin into was photographed by a Twitter user, who said the same kind of vehicle, a black Ford Transporter minivan, was used in previous abduction cases. The license plate of the vehicle, 06 MBC 32, can be seen in the photo.
Ömer Faruk Gergerlioğlu, a human rights activist and Peoples' Democratic Party (HDP) deputy, has tweeted that he would follow the case to the end. At least 24 people who were suspects in investigations into the faith-based Gülen movement have reportedly been abducted by Turkish intelligence officers since a failed coup in 2016.

------------------------------------------------
10 August 2019:

Court arrests 4 men allegedly abducted by Turkish intelligence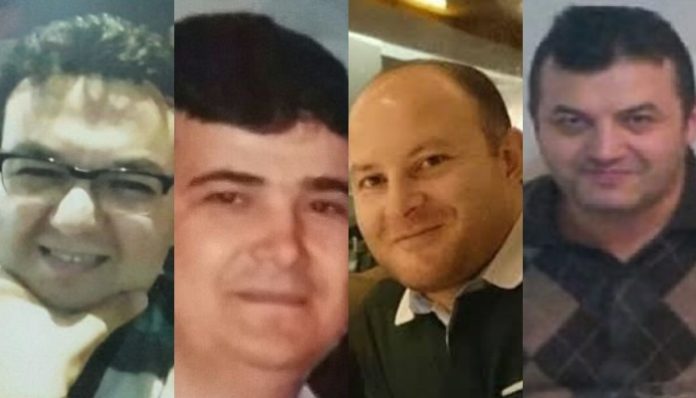 Four out of six men who were allegedly abducted by the Turkish intelligence agency in February and were missing for months were arrested by a court on Friday evening over Gülen links, according to Deutsche Welle Turkish service. Yasin Ugan, Özgür Kaya, Erkan Irmak and Salim Zeybek have been in police custody since July 28.
Gökhan Türkmen and Mustafa Yılmaz, who were also abducted in February, are still missing.
Ömer Faruk Gergerlioğlu, a Turkish deputy and human rights activist, called the court ruling a "scandal," reporting that the detainees did not even know the names of their attorneys, who according to officials they hired. Lawyers from human rights organizations were removed from the corridors near the courtroom by the police, the DW report stated.
Turkey accuses the Gülen movement of orchestrating a 2016 coup attempt, although it strongly denies any involvement. Since 2016 at least 24 Gülen-linked individuals have gone missing. Two of the abducted Gülen followers told Correctiv, a non-profit investigative newsroom in Europe, they had been subjected to torture and ill treatment by intelligence officers at a secret site in Ankara.
--------------------------------
31 July 2019:

Turkish rights groups call on authorities to abolish units responsible for abductions
Four rights organisations and lawyers said on Wednesday that certain units within Turkish state security organisations were likely to be responsible for abduction incidents, and called on the authorities to take the appropriate action against them, Mezopotamya News Agency reported on Wednesday.
The rights groups organised a joint press conference after families of four men, who went missing along with two others in February, were informed by the authorities on Sunday that their relatives were being held by the Ankara police department's anti-terror department.
All six men were among public servants sacked from their jobs over links to Gülen religious movement, which Turkey accuses of orchestrating a coup attempt in 2016.
The police said the four men had been detained during a routine security check in Ankara on Sunday.
But the authorities have given no indication of where the men were during the five previous months.
In a joint declaration, four civil society organisations – the Human Right Association, Human Rights Foundation of Turkey, Ankara Chamber of Medicine, and Rights Initiative – said that the authorities were neglecting their responsibility to effectively investigate human rights violations and bring those responsible to justice.
"The only thing that comes to our minds in relation to that incident is that a special unit within the state is carrying out those abductions and that everybody is staying silent about these practices. We do not want a new report on extra-judicial practices. Turkey has to abolish those special units," the statement said.
The rights groups said the police had allowed only one member of each family to visit the detainees, while the lawyers had still not been permitted to visit their clients. The police had denied all knowledge on the two other men who were still missing, they said.
Kerem Altıparmak, an academic and a human rights advocate, said that the police's treatment of the four detainees had raised suspicions of a coverup of serious misconduct. He said that the families had filed a complaint immediately after those people had gone missing, but they had not been provided with any information about the progress of the investigation.
Altıparmak said the police had told the families that the detainees did not want lawyers. "Now why would a person who has been missing for six months decline to be represented by a lawyer. There is no reasonable explanation for that," he said.
Neither the lawyers nor the families had information whether the detainees had undergone medical checks, Altıparmak said.
Emir Seydi Kaya, the lawyer of one of the detainees, said that the prosecutors had denied responsibility for investigating whether the detainees had been tortured and had declined the lawyers' demand for detainees to be checked by independent experts.

3 June 2019:

From Relatives of the Disappeared to Erdoğan: We Don't Live in Bright Picture You Draw
Prevented from holding their weekly sit-in protests at Galatasaray Square since their 700th gathering, Saturday Mothers/People came together in front of Human Rights Association's (İHD) İstanbul Branch Office in Beyoğlu in the 740th week of their protests on June 1 and asked the fate of Kurdish businesspeople Savaş Buldan, Adnan Yıldırım and Hacı Kabay in the 25th year of their disappearance in police custody.
While the relatives of the disappeared carried carnations and pictures of their losses in their hands, this week's gathering was also attended by Republican People's Party (CHP) MP Sezgin Tanrıkulu and Peoples' Democratic Party (HDP) Co-Chairs Sezai Temelli and Pervin Buldan, who is also the wife of Savaş Buldan, who was commemorated in this gathering.
Reading out this week's statement for the press on behalf of Saturday Mothers/People, Besna Tosun addressed the Judicial Reform Strategy document introduced by President and ruling Justice and Development Party (AKP) Chair Recep Tayyip Erdoğan last week:
CLICK - President Erdoğan Announces Judicial Reform Strategy
'We are made to live in unlawfulness'
"We don't live in the 'Bright Picture of Turkey' that the President has drawn. We live in a limbo where we cannot learn the fate of our loved ones who were disappeared. We are made to live in a state of unlawfulness where we cannot reach the truth and justice and cannot communicate our demands to the public. We are making a call to the President:
"What we need as a society is not the judicial packages that are the repetition of each other and remain unfulfilled, but the practices that will ensure real justice, democracy and human rights.
"We are calling onyou to immediately initiate the practices based on our Constitutional demands and democratic requests of society in the name of truth, justice and conscience.
'We know the perpetrators very well'
Taking the floor after Besna Tosun, HDP Co-Chair Pervin Buldan, who is also the wife of Savaş Buldan disappeared in custody 25 years ago today, also made the following remarks:
"In this 25-year period, we appealed to everyone, we knocked on every door. But, we were faced with thick walls and a silent, deaf and mute system that doesn't see the incident and doesn't want it to be investigated. For 25 years, we have done our best to ensure that murderers will be brought to justice.
"The policy of systematic disappearance and massacre has been continuing up until today. In fact, we know very well who the perpetrators are. We know that these murders were committed by the hand of the state. Because the ones who committed these murders have never hidden themselves, they told about the murders in some commissions. However, the state and government didn't do anything to change it.
"If the ones killed in unidentified murders are not a part of this judicial reform, if there is nothing about the trial of the responsible parties in it, then we don't expect anything from this judicial reform. These issues should definitely be included in the reform, the society must be relieved." (EMK/AÖ/SD)
July 2018:
ERDOGANS LONG ARMS ABROAD AND RECOMMENDATIONS TO GOVERNMENTS

Is Turkey Turning Into a Mafia State?
Introduction:

Even though actions of the Turkish government against dissidents including the Gulen Movement are not appreciated by many countries around the world, there are some states who are in cooperation with Turkey neglecting human rights and fundamental freedoms.

This study will first talk about abductions and deportations around the world that are considered as violating international human rights law and customary international law. Then in the second section,
violent reactions perpetrated in foreign states by pro-government people will be mentioned. Third section will be giving details about recent threats targeting the supporters of the Movement. Lastly, to cope with such risks and threats, the Advocates of Silenced Turkey recommends to foreign governments to take all the necessary steps for ensuring protection to these people. Read the full report


---
TURKEY 2017 HUMAN RIGHTS REPORT

Country Reports on Human Rights Practices for 2017

United States Department of State • Bureau of Democracy, Human Rights and Labor


b. Disappearance

There were some unconfirmed reports of disappearances during the year, some of which human rights groups alleged were politically motivated. Opposition politicians and respected human rights groups claimed at least 11 abductions or disappearances of individuals with alleged Gulen ties or who opposed the government occurred.

For example, in June the 12-year-old son of agricultural engineer Cemil Kocak witnessed the disappearance of his father in Ankara after their vehicle was hit by another car. When Kocak exited the car to assess the damage, three persons forced him into another car and drove away. According to Human Rights Watch (HRW), there were "credible grounds" to believe Kocak and at least three other men had been forcibly disappeared by government agents.

Similarly in April Onder Asan disappeared in Ankara. Six weeks later, his family located him in an Ankara police station. Asan alleged that before being transferred to official custody, he was interrogated and tortured by security forces. Most of the victims identified by HRW had been dismissed from government jobs under the state of emergency. Government officials disputed HRW's claims but declined to provide information on its investigative efforts, if any.

Abductions: The PKK abducted both officials and civilians throughout the year. According to media reports, the PKK claimed it had abducted 20 persons, including two MIT employees. Read the full report

---

HUMAN RIGHTS WATCH | OCTOBER 2017:


Human Rights Watch has examined several cases of abductions which likely amount to enforced disappearances, the majority of them in Ankara. An enforced disappearance occurs when a person is taken into custody, but authorities subsequently deny it or refuse to provide information about the person's whereabouts. In August, Human Rights Watch
wrote an open letter to Turkey's Minister of Justice about five cases, but has not received a response.55 In several cases documented in this report, families of victims have applied to the European Court of Human Rights complaining of the lack of an effective investigation into the disappeared persons.

The cases of abductions and likely enforced disappearances are particularly concerning in view of Turkey's history of security forces conducting enforced disappearances in the 1990s. The European Court of Human Rights issued repeated judgments that Turkey had violated the rights to liberty and security, and often the right to life of victims who were mainly Kurds, and subjected their families and loved ones to inhuman and degrading treatment. Read the report

---
ENFORCED DISAPPEARANCES TARGETING THE GULEN MOVEMENT
June 2017:


There has been a new campaign of enforced disappearance in Turkey since 2016 that specifically targets members of the civic Gülen movement. SCF has documented at least 11 cases of enforced disappearance so far.

From one specific case in which the abduction of a victim resulted in an unofficial detention in a secret place for over a month by intelligence elements before he was turned over to the police for formal detention, SCF has been able to map out the modus operandi of this string of clandestine and unlawful kidnappings that primarily took place in the Turkish capital.

It was clear that members of the security forces, especially elements linked to the intelligence agencies, were involved in these enforced disappearances and that government officials including prosecutors have been unwilling to investigate such incidents.

Lawmaker Sezgin Tanrıkulu from Turkey's main opposition Republican People's Party (CHP) said in Parliament on May 24, 2017 that he had raised seven recent cases of enforced disappearance and talked to the wives of the missing.16 He said the relatives told him that when they visited prosecutors' offices and the police to inquire about the fate of their loved ones, they were told to not pursue these matters or otherwise they too could end up in the same situation, leaving their children behind.

A Peoples' Democratic Party (HDP) motion to set up a parliamentary investigation commission to look into enforced disappearances was rejected on May 24, 2017 by the votes of the ruling Justice and Development Party (AKP) and its nationalist partners. Read the report